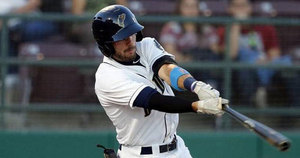 The former 10th round pick of San Diego Padres out the 2015 MLB June Amateur Draft has signed a minor league contract with Boston Red Sox.
Justin Pacchioli just leveraged an All-Star season with the Somerset Patriots in the Independent Atlantic League to a shot to move up the rungs of the Boston Red Sox.
After taking a year off to care for his ailing mother, Pacchioli had himself an All-Star year. He hit .281 with a team a team high 61 runs, third in the league with 35 stolen bases (caught two times), and tied for sixth in OBP (.384).
All these stats are very reminiscent to his numbers at Lehigh where he compiled 69 stolen bases in four years (caught three times) to go with a .344 batting average and .449 OBP.
No matter how good anyone thinks they are, you never really know who's watching. When the word came down that the Red Sox were interested, it was still very surprising despite all that he'd accomplished.
"When he said that to me about the Red Sox being interested in signing me, I kind of laughed and asked if he was serious. He was like, 'You think I'm joking?' And I was like yeah, kinda … I wasn't really thinking about going anywhere or doing anything like this. You can say that until it happens, but then when it happens, you've got to make a decision."
After four games with the Salem Red Sox he's still waiting to record his first hit, but that comes with the territory. With nothing but great comments about his ability and character, Salem has themselves a competitive guy with a knack for causing chaos when he gets on base.
"We love to bring in young, competitive guys into spring training, and Justin fits that mold," said Somerset Patriots manager Brett Jodie. "He is a plus defender in the outfield and can create havoc on the bases with his speed. While he does not have a lot of experience, we think he is a good ballplayer who will turn some heads in camp once he gets here."