Now that Baker Mayfield is the King of the NFL, there's no point in talking about Johnny Manziel anymore…right? Kudos to Mayfield, he did what he had to do and got the Cleveland Browns in to the win column for the first time in forever.
Manziel has gone from Heisman hero to NFL bust, to laughing stock, to reclamation project. All the while trying to shed a reputation that could destroy any and all comers.
With no team to play for and the end of his career in sight, Manziel leveraged his time in The Spring League to get ready for any opportunity that might present himself. It was a given that the NFL wasn't going to be his first stop. Since the CFL's Hamilton Tiger Cats held his rights for some time it was the most likely conclusion.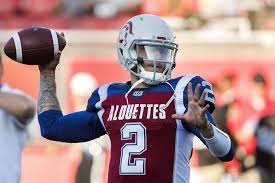 But amidst all the Manziel comeback talk, and whether he was still a burden off the field, his mental health became a priority. The former can't miss prospect came forward about his struggle with mental health and being diagnosed as bipolar.
Nothing was guaranteed and Manziel had to work for his spot in the CFL. He was traded by the Tiger-Cats in July and his foray back to professional football began.
In three games Manziel is 45-71 for 484 yards and 5 interceptions with zero touchdowns. His play on the field is improving as evidenced by his last game against the Winnipeg Blue Bombers.
"I felt really comfortable for a lot of the night, seeing the field, seeing coverages," said Manziel, who finished the outing 18-of-25 for 212 yards and an interception. "Even though it's a loss, from a personal standpoint of learning this game and being out on the field, there were some better things.
"Still a lot of work to be done, but I'm proud of the way our guys fought."
His worst critics will blast him to no end. He'll be called a fraud, a bust, and someone who's wasted a once in a lifetime gift. However, we still see flashes of what he was in college and reminds us of someone regaining the ability that was once so familiar.
I look at this as a human being that's gone through struggles many of us do. Yes, he's in the spotlight more than the regular guy, nonetheless, he's taken accountability. Manziel identified that he needed help and isn't that what's most important?
One day, we may very well see him back in a NFL uniform, until then he can be an inspiration to others who have lost something and will go to any length to get it back.