UFC 182 was supposed to be Myles Jury's coming out party. He was 15-0 and taking on Donald "Cowboy" Cerrone at the UFC's big New Year's event. At the conclusion of the co-main event, Jury's record stood at 15-1, his first defeat after a unanimous 30-27 decision at the hands of the #4 lightweight fighter in the world.
Big time athletes have God given talents, talents that separate them from the rest. Barry Bonds, Wayne Gretzky, Michael Jordan, Tom Brady, and Anderson Silva are all, at one time, the absolute best in the world at their respective professions. If they missed the game-winning shot, or hit the game-winning home run, these students of the game continued to look for ways to improve and take their craft to the next level.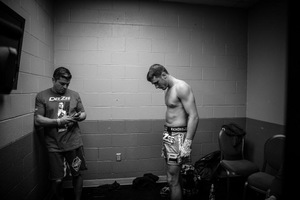 Failure is not just a part of life, it's inevitable. Jury has crossed that road only once in his professional career. It may be devastating to some, but Jury has taken the approach that many champions take; take the loss for what it was and begin the improvement process immediately.
Days after the fight, Jury posted this on his Twitter feed:
Learning from mistakes and failures is what truly makes us who we are and brings out the best in us. I've begun the process to bringing out the best…..
Step #1 – Acknowledging what all I did wrong, what I should have done and taking 100% responsibility.
This isn't fun and is quite humbling. At the same time, I needed something to light a fire under my ass to stop worrying about being perfect. I'm ready to bite down and get after it like never before! You have to take BIG RISKS TO GET BIG REWARDS and that's exactly what I will do….
Many of the negative comments from the fight have come from his opponent. Jury doesn't let that phase him. Look at the positives. Jury is one of the best up and coming fighters in one of the most competitive professions in the world. He was up against his biggest test to date and Cerrone did not stop him. Cerrone had Jury on his back in a very precarious position for most of the first round and could not put him away. Jury, a Brazilian Jiu-Jitsu black belt used those skills to hold Cerrone at bay.
That first round could have rattled many fighters, but Jury kept calm and cool under pressure and never succumb to the submission attempts. That is another example of how good, not only Jury is at his craft, but how well-prepared his team is. Jury may not have won the fight, but he learned more in defeat than he ever could any other way. In a recent interview on Bleacher Report, Jury comments on what lessons he learned once the fight concluded.
"I know I belong at the top and just made a lot of mistakes that I need to correct and will then never hold myself down or back ever again. To be at the top of the division, it just showed me that I need to stop putting pressure on myself to be perfect and do everything perfectly and start getting ruthless, taking big risks to get big rewards."
15 wins and 1 loss. That might be good for some, not for "Fury" Jury. The next time Jury enters the Octagon, you can better believe he'll be ready to go. He is a consummate professional always looking for ways to improve mentally and physically. For someone who has worked his whole life for this moment, this is a stepping stone to bigger and better things.
How many other athletes would be so open and honest about that? Only the best ones.
To learn more about Myles "The Fury" Jury, please check out his website and Jury Jiu Jitsu at Juryjj.com. You can also following him on Twitter, facebook, and Instagram. For more inquiries, please contact his manager, Ryan Hass, Founder of Evolution Agents.