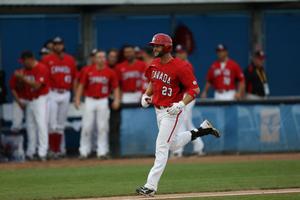 Rene Tosoni has seen it all and done it all. He's done what every kid growing up has ever dreamed of when he stepped onto a big league field and has represented Baseball Canada at multiple events all of the world.
People immediately recognize the regular household names like Trout, Harper, Bogaerts, Bautista, and Bumgarner. But it's players like Tosoni that really never get the credit they truly deserve.
The GM's Perspective: It's been a couple years since the last time we spoke, and you've spent time in the Independent Leagues putting up some great numbers, including 12 triples with the Sugar Land Skeeters (a team record) last year.
What have you learned about yourself in the past few years?
Rene Tosoni: I have learned a lot about the game and even more about myself. I know what kind of player I am and need to be to help my team. I also learned that I know I love this game very much but you can't play forever. I have really started enjoying the game more these past couple of seasons.
GMs: After 10 years of professional baseball, it's without a doubt you're playing the game because you're good at it, but sometimes being good at something can't hide the fact that things don't always go your way. How do you stay motivated year after year?
RT: It's honestly tough to keep yourself motivated to play after 10 seasons, but having the opportunity for my family to travel with me these past couple seasons has been great support and makes me enjoy the game so much more.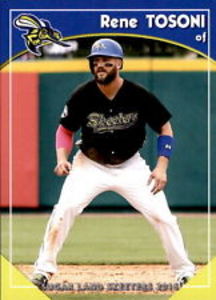 GMs: You are returning to the Sugar Land Skeeters in 2017 and you were an integral part in helping them win their first league championship. What's your experience been like with them?
RT: My experience with the Skeeters has been nothing but a great time. They are such a family friendly organization and would go out of their way to make my kids enjoy their time.
GMs: The Skeeters have had some big names put on their uniform; Scott Kazmir started his MLB comeback in their inaugural 2012 campaign, Roger Clemens and his son played together, former NBA baller, Tracy McGrady tried to start a career with them, and ex-MLB'ers like Brian Barton, Delwyn Young, and Jason Lane have all spent time in Sugar Land. What makes this team such a haven for great players, including yourself.
RT: Sugar Land is the place everyone wants to play. Top of the line facilities with a great manager and wonderful front office. It's funny because my first season in Independent Baseball I tried to go to Sugar Land but the roster was already set. I eventually made my way there when the opportunity came to me and now I wouldn't go play anywhere else.
GMs: In a few weeks you'll be donning the Canadian jersey once again for Team Canada at the World Baseball Classic. You've also been apart of Team Canada at the 2009 Baseball World Cup and 2015 Pan American Games. What does it mean to you representing your country at the highest level?
RT: It's the greatest honor to have the chance to play for Team Canada. Ever since my first time on the Junior team in 2003 my goal each season has been to have another opportunity to put that jersey back on.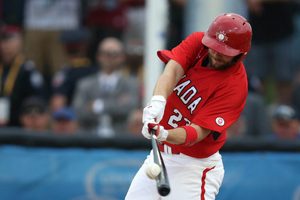 GMs: Totally off topic, but there's been a lot of talk about rules and the changes Commissioner Manfred has made lately. And, many players including Blue Jays' Russell Martin have sounded off on it. Removing the standard Intentional Walk: Good or bad?
RT: I don't like it, in the Atlantic League they play with that rule. So if it's my team up to bat I want the pitcher to have the opportunity to fail and possibly throw a ball away or over the plate.
GMs: Canada is producing amazing talent on the field and the world is taking notice. What's your thoughts if I said "it's because of guys like you that make it possible for the younger generation to believe they can make it to the next level?"
RT: I appreciate the compliment and I hope that it's true! Also the game is growing and the knowledge of it is getting better as well. I come back to Vancouver every winter and help out as much as I can. I enjoy getting the chance to help young minds learn the game and encourage them to continue playing baseball.