At the conclusion of the 2019 Atlantic League season, Telvin Nash was named league MVP.
Nash has a long history in the game, but last season was one for the ages.
It was a career year, one of the best the Atlantic League has even seen, and possible the best independent league season ever: Home runs (41), RBIs (100), runs (107), walks (105), batting average (.294), slugging percentage (.623), and OBP (.423).
Despite not signing a MLB contract, and spending the last five seasons with the York Revolution, Nash signed with the St. Paul Saints of the American Association.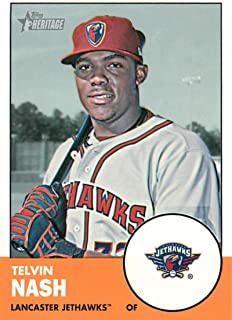 "It was just time for a change," Nash said. "I loved it in York, don't get me wrong. The fans were amazing. It just came down to trying to find somewhere for me to take my game to the next level."
Interesting because the Atlantic League is the preeminent Indy League going right now. The American Association, according to Mark Mason, Nash's manager, with less experienced and younger players might diminish anything Nash does going forward.
Anyone that crushes 41 home runs and puts together numbers that would rival any, should do just fine wherever he suits up.
The Saints deal was announced in early 2020. But Nash is actually playing over in Japan at the moment. With our current circumstances, I'm not too sure if that played a role in the move? . Maintaining a website is as important a part as its design or its own creation. This maintenance is what allows the Website to continue fulfilling the objective for which it was created throughout its life cycle, so important to have the help of the professionals from Best Website Hosting to keep your website update.
You can check out some highlights on his Instagram page.