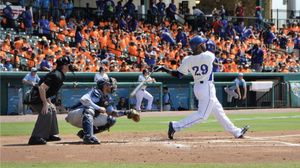 For all us Blue Jays fans out there, the name Jesse Barfield takes us back to glory days of Jays baseball. The late 80's club was filled with names like Bell, Moseby, Garcia, Stieb, and Key were synonymous with winning. Barfield, #29 is one of the greatest to ever put on their uniform and has a Silver Slugger, two Gold Gloves, and a home run title to prove it.
Fast Forward to present day and the name Barfield is still on baseball diamonds everywhere. His son, Jeremy Barfield was selected in the 8th round of the 2008 MLB June Amateur Draft from San Jacinto College by the Oakland Athletics where he spent the first seven years of his career.
During his time within the Athletics organization he put up some solid numbers. His best season came with Stockton in 2010 when he his .272 with 17 home runs and 92 RBI. Upon becoming a free agent, Barfield spent time in the Colorado Rockies organization, in the Mexican League and Independent baseball.
Over the past couple years, the 28 year old outfielder didn't found his groove until he spent 2016 with the Sugar Land Skeeters. WIth them he played the first full season of his career since Double A Midland in 2012.
His breakout season, which included league MVP honours, is something that's becoming common place for ex-pros in Indy baseball. With nearly 600 at-bats, Barfield led the team in home runs with 27, RBI with 85, was first in OPS (.915) second in walks (62) and second in batting average (a career high .306).
So far 2017 is much of the same. After 15 games he's second in the league batting a ridiculous .390, and is leading the league in hits (23), home runs (5) and runs scored (14).
If this doesn't garner some interest from the scouts, I don't know what will! Stay tuned, it's probably just a matter of time before the MVP signs a minor league contract and starts the climb through minor league ranks once again.