Jordany Valdespin has been named the Independent League Player of the Year by livescore. If you've been following his season, this shouldn't be much of a surprise.
He was named The Long Island Ducks MVP after a career year. The former New York Met and Florida Marlin posted career bests in nearly every offensive category and his 2018 stats were top five in on-base percentage (.399) and total bases (222), third in stolen base percentage (.857) and fifth in slugging percentage (.487).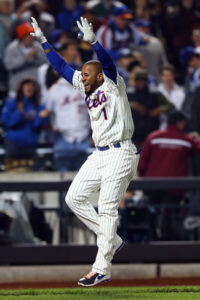 "Jordany's outstanding season being recognized this way is a fitting tribute to his hard work and dedication," said Ducks President/GM Michael Pfaff. "To be selected as the top player across multiple leagues featuring hundreds of talented players is a fantastic honor. We look forward to seeing Jordany continue to accomplish great things in the future."
A checkered past; 50 game suspension regarding the Biogenesis probe, altercations with teammates, showboating after hitting home runs and the "I'm the man right now" comment might sour teams thinking about giving him another shot, but what the hell…
He's been praised by his superiors and loved by his teammates during his revolutionary time in the Indy Leagues and performed as well as anyone could imagine. At 31 years old, and a lifetime of experience under his belt, it's only a matter of time before we see him signed by a big league club. You can't deny the his talent and what he did this year is undeniable.
Congrats Jordany. This is the what the game is all about.
Photo Credits
**Leadin –  Source: Jeff Curry/Getty Images North America) In article**Source: Elsa/Getty Images North America**