40/40, MVP, World Series Champion, Rookie of the Year. All things that make up the career of Jose Canseco. He is baseball's conscious. A player so entrenched in its history, yet he's rarely if ever acknowledged for what he did on the field.
Canseco is the Godfather of steroids, but he's not the only person to to look for an edge.. He's admitted to using performance enhancers which elevated his achievements to unearthly levels. His home runs were glorious and his image was pure Hollywood.
Once Canseco outed his fellow brethren (Mark McGwire) in his books Juiced and Vindicated, the baseball world has been turned upside down and players once guaranteed for immortality are now in their own exclusive abyss.
McGwire, Bash Brother #2 has stayed involved in the game as hitting coach for the Los Angeles Dodgers. St. Louis Cardinals and is now bench coach for the San Diego Padres. Sammy Sosa ranks 8th on the all-time MLB home run list and barely received the minimum numbers of votes to stay active on the Hall of Fame ballot. And Rafael Palmeiro, who so vehemently denied using steroids and a member of the elite 500 home run 3,000 hit club, collected an insufficient number of votes to remain on the HOF ballot after four years of eligibility. Some of the greatest names the game's ever seen were once shoe-ins for immortality. They're now barely mentioned.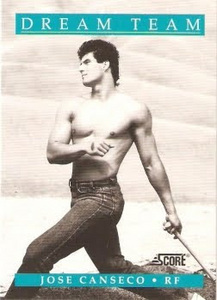 Since leaving the game, Canseco's had his hand in everything. He was a cast member in Season 5 of The Surreal Life, battled Via Sekahema for $30,000, fought child star Danny Bonaduce to a draw, lost to Choi Hong-man in a MMA fight in Japan and even appeared on Donald Trump's Celebrity Apprentice. There's no denying the guy has star power, but within the past few years, aside from Twitter fights with The Iron Shiek, he's been involved in Independent baseball as a spokesman and promoter. That's not to say he isn't making a couple bucks out of it, but these leagues, which crave attention, could do a lot worse.
I'm not saying Bash Brother #1 isn't using this as a platform to showcase himself, but every time he signs a contract, multiple news outlets pick up the story shining a light on leagues that are desperately looking for acceptance.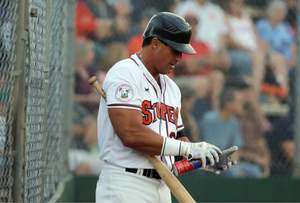 In the midst of all this, what gets lost is the amount of time Canseco has actually played indy ball. In over eight years, he's appeared in 179 games hitting .246 with 29 home runs and 113 RBI. Even this year, at 51 years old, he played seven games for the PIttsburgh Diamonds of the startup Pacific Association of Professional Baseball Clubs. Impressive? To the naked eye, no. But to those looking for his purpose, he could be as a mentor to the younger players.
"We are excited to have Jose Canseco on the team, he will not only bring power and excitement to the ballpark, but will also be able to coach some of our players," said Khurram Shah, majority owner of the Pittsburg Diamonds, "He has an incredible knowledge about hitting and playing the game at a high level."
After all these years the Godfather is mainly an afterthought, yet he will always be the guy who crushed over 460 home runs. Steroids or not, you still have to hit the ball. That's what others see when they get up close and personal. Recently he hosted an home run derby with local players from Vallejo, American Canyon and Benicia. The contestants weren't intimidated, but excited.
"It feels good, this will inspire me to hit the ball better," Emarrea Dickerson said, who graduated from Vallejo High this past year. "I think I'm going to do good."
…
"Hopefully I can do pretty good for him," Urias said. "Maybe if I hit a home run, it'll bring me more confidence."
He's not the larger than life figure who turned the sports world upside down, he's a guy who just wants to play the game and can pass on his knowledge to anyone who's willing to listen.