Chris Colabello used to be the Independent golden boy who finally saw all of his potential fulfilled in 2015 when he hit .321 for the Toronto Blue Jays.
At the beginning of the 2016 season, he was suspended for, knowingly or unknowingly, taking dehydrochlormethyltestosterone (DHCMT), an anabolic steroid. He claims he has no idea how he tested positive, but it really makes no difference anymore. Your branded a cheater and that's that. His career was never the same.
After signing with the Cleveland Indians in December of 2016, he split the year between the Indians Triple-A club and the Milwaukee Brewers Triple-A squad. He hit .254 with 12 home runs and 62 RBI and was granted free agency in this past November.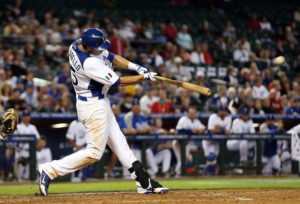 Come 2018 and we are two months in to the season. Unfortunately, Colabello still hasn't signed with a team and at 34, his options may be running out at this point.
Now to say I'm bias is pretty obvious. To see and Indy ball alumni crush it at the big league level is something we all dreamt of. Colabello did it and though it took him seven years to finally sign that minor league deal, it's without question, he's got the heart and desire to push through anything.
Did he make a mistake? Potentially, but he's hit at every single level. You can't fake that.
The Can-Am League reported the still unsigned first baseman/outfielder will be suiting up for San Marino in Italy. He reports in May. Despite the season being only 35 games in length, this could be his last shot to get noticed by scouts.
*Photograph by: Christian Petersen/Getty