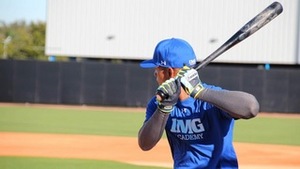 With tryouts held for the New York Yankees, New York Mets, Milwaukee Brewers, Pittsburgh Pirates and 10 other MLB teams under his belt, Kieran Powell's baseball skills have been improving each and everyday. The GM's Perspective spoke with the former cricket star about his post tryout training and how he keeps his focus amid all the publicity.
The GM's Perspective: It's been a few weeks since we last talked, how did the private tryouts with the Mets and the Brewers and the workout in front of 14 MLB teams go?
Kieran Powell: The private tryouts were very good and the overall workout was good as well. The feedback that we got at the workout from some of the teams was that they've only seen me the one time so they'd like to see me against live pitching. We're currently trying to arrange that for teams that are interested so that they can get a better assessment of my skills. Unlike the Dodgers, the Cubs and the Tigers who have been watching my progress from the very beginning, not all the other teams had seen my transition until my workout . Overall, everything has been good.
GMs: You mentioned that you are currently doing some interviews, specifically with MLB.com. Is that a feature or a follow-up from the recent tryouts?
KP: That's a feature they're preparing and should be airing next week. They came down from New York to film and its been great fun working with them. I've just finished some filming with them today and will be doing some more with them tomorrow.
GMs: What has the response been from other athletes that you have been working with? Your photo with New York Mets All-Star third baseman David Wright got a lot of attention and you've recently been working with the same people who have coached Alex Rodriguez.
KP: Everyone has been extremely positive. Everyone who meets me tells me they've been following my journey, but also to enjoy this and not to put any undue pressure on myself. It's already a tough enough sport so enjoy the experience.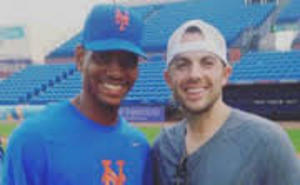 GMs: How have you found the support from your fans? It must be very emotional knowing you have people from all over the world who are rooting for you.
KP: All the support and the interest has been great. I'm really grateful for everyone whose been supporting me, but it all starts with my manager, Emma Everett. She's the one who gives me the most support and none of this is possible without her. I'm happy with where we're at and happy where we're going with this.
GMs: Last time we spoke, you talked about bad habits. Is that still your biggest concern between cricket/baseball fundamentals? What's been the most positive trend you've experienced?
KP: Since the last time we had a chat, many things have changed. Where I was last week is not where I was last month. And where I'm at today is not where I'm going to be next week. I've learned quickly and I've been improving every single day.
I would say the biggest constant is body position. Getting my body into the right position and getting my body comfortable being in certain positions that I wasn't necessarily used to when playing cricket.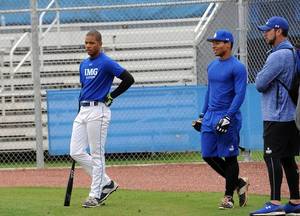 GMs: Has anything surprised you?
KP: Not really. I'm expecting it to be different. I've started to hit off of the curveball machine. That's been the most interesting part of it so far. Timing is something I continue to focus on.
GMs: With Spring Training about to ramp up, what's next for Kieran Powell?
KP: Obviously, we'd like to sign a contract and head off to Spring Training. I'll leave the negotiations up to my manager. As I said previously, none of this happens without her and infact, she is flying off to meet with one of the MLB teams this weekend. We are definitely looking to get a move on with the start of the season drawing near but we are keen to ensure the offer I take is one that will give both me and the team the best growth opportunity.