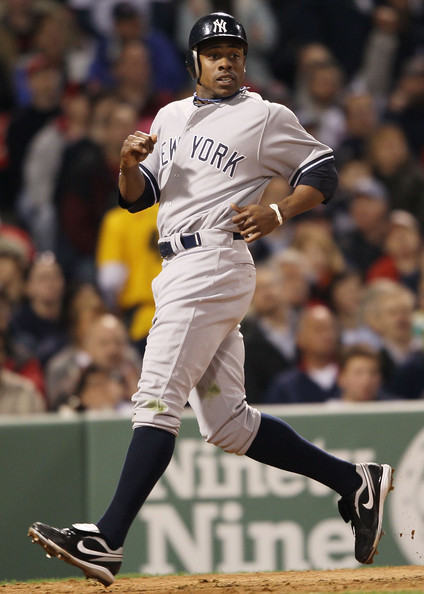 The biggest signing of the 2009 Winter Meetings was of course a deal that involved the New York Yankees.
A 3-way trade between the New York Yankees, Detroit Tigers, and the Arizona Diamondbacks was the most intriguing, a deal that included the following players;
CF Curtis Granderson to the New York Yankees
SP Edwin Jackson and SP Ian Kennedy to the Arizona Diamondbacks
SP Max Scherzer, RP Phil Coke, CF Austin Jackson, and RP Daniel Schlereth to the Detroit Tigers
The main components of that deal were Curtis Granderson: star center fielder of the Detroit Tigers, and Austin Jackson: the prized prospect of the New York Yankees.
Nearing the midway point of the 2010 season, the Detroit Tigers have snuck one past the Yanks, so to speak.
Jackson is enjoying a decent rookie season, while only costing the Tigers a base salary of $400,000.  He leads the club in stolen bases (13), ranking 4th in batting average (.306), and coming 5th in OBP (.353).
Granderson on the other hand is struggling on the field and costing the Yankees a pretty penny in the bank account: he is owed $5.5 million next year, $8.25 million in 2011 and $10 million in 2012, and his contract includes a $13 million club option for 2013 with a $2 million buyout, (this courtesy of ESPN.com).
After 56 games, Granderson is hitting .232, with a .309 OBP, slugging an anemic .412, his OPS of .721 ranks him 46 out of 85 American League outfielders.
More specifically, that ranks him between Juan Rivera of the Los Angeles Angels and Scott Podsednik of the Kansas City Royals.
Granderson has always been known as one of the good guys in the game as stated by Jim Leyland, Granderson's former manager.
"I think, in my opinion, Curtis Granderson is one of the things that's all good about baseball in today's baseball world. He is one heck of a player. He has a great face. He's very bright. He's very articulate. He's everything that's good about baseball," Leyland said. "He's the total package."
Unfortunately, there is a disturbing trend in Granderson's ability over the past two seasons that might cost him more than a contract, but playing time in the "Bigs".
His ability to hit left-handed pitching is becoming a serious problem.
In '07, he batted .160 against lefties.  In '08 there was some significant improvement batting .259.  That appeared to be an aberration, as '09 saw  that number drop back down .183, and presently sees him hovering at .197.
The 2007 and 2008 seasons are where Granderson really started to gain credibility throughout the league.
Playing tremendous and consistent defense is natural for an athlete who has a career .993 fielding percentage committing only 14 errors in almost 1900 total chances.
As mentioned, in '07 and '08, Granderson average 22 plus homers a year with 70 RBI, he was on base nearly 37% of the time and had a single season career high slugging percentage in '07 of .552.
With all this information you would think his numbers would get better, however at this point in his career those numbers have taking a drastic nosedive.
A career .279 hitter prior to 2009, Granderson saw his average drop to .249, although he hit career highs in homers (30) and RBI (71).
The downturn in average has continued this year.
When scouring FanGraphs, two pieces of information stuck out to me that could explain Granderson's struggles of late.
First, his "O-Swing Percentage" (percentage of pitches a batter swings at outside of the strike zone) is at a career high; 23.6 percent.  Meaning that patience at the plate is wearing thin, more or less based on the struggles and pressure placed upon him by the fans and the media etc…
Second, Granderson's fly ball percentage has been at the highest they have ever been; 49.3 percent in '09 and 45 percent in '10, 5% higher than in '08.
Whether or not Granderson has become homer happy, or that his mechanics need a tweak, we may not know.  The numbers do tell us that something is wrong in his swing, or possibly pitch selection is the major factor.
One thing is for sure, playing in New York is a lot different from playing in Detroit.  Every little thing is scrutinized, every out dissected, every boo heard just that more.
Being a part of a major trade gives Granderson some leeway, more time will be given to work through this funk, yet once the second half rolls around and the numbers are not moving in the right direction, knowing the Yankees and their history, a change could happen sooner than later.
Devon Teeple is an author for the Business of Sports Network, which includes the Biz of Baseball, the Biz of  Football, the Biz of Basketball and the Biz of Hockey.   He is a former professional baseball player with the River City Rascals & Gateway Grizzlies. Devon is also available for hire or freelance opportunities.
Devon is a former student within Sports Management Worldwide's Baseball General Manager Class. Devon is the founder of The GM's Perspective and is a intern with The Football Outsiders and contributor with the Plymouth River Eels.
Currently, Devon is a Branch Manager at a financial institution in Southern Ontario Canada.  He can be reached at devon@thegmsperspective.com , thegmsperspective@yahoo.com or devon@businessofsportsnetwork.com