Aaron Abeyta or "El Hefe" as he is affectionately known to his fans, has been in the punk band NOFX for over 20 years. With his wife Jennifer Abeyta aka "Mrs. Hefe", they are the founders of Cyber Tracks, a Los Angeles based record label.
Over the past three years, the Abeyta's have been building Cyber Tracks in to a formidable label with strong deep-rooted punk influences the retail industry. With a roster that showcases some of the best talent the punk scene has over the past quarter century (Counterpunch, Implants, Margate, Ten Foot Pole, This Legend, Warner Drive) the sky is the limit.
I was fortunate to speak with Cyber Tracks CEO, Jennifer Abeyta who explains the inner working of running a business common paystub deductions, how the music industry has evolved, and what's in store for Cyber Tracks and the punk genre.
The GM's Perspective: What was the motivation to start your own label?
Jennifer Abeyta: The idea really came out of left field for us. We never actually sat down together and said "Hey Honey, let's start a record label!" When we started our company, we didn't even intend on it being a "record label." Aaron was producing and mixing a lot of unsigned bands, who would then take his end product and ask us to try to help them shop for a record deal. We started thinking, "why don't we just complete the job and release the music ourselves?" We always had the means and the connections, and eventually, it took the band Margate to really give us that push. They loved the idea of us forming a company and releasing their album and they actually helped assist us in setting up the company in a way that would be fair for both parties. We got to listen to their needs and wants, and we were able to build our structure around that.
GMs: Now that Cyber Tracks is gaining traction and popularity, what is the biggest struggle you've found since you started the label?
JA: Ha Ha, I hate to say it, but: getting people to BUY the album! Companies like Spotify have made it really difficult for us to move units. We invest all this money and time into a band, release a killer album, and then some "other entity" gets to make a ton of profit and steals all our business by streaming it for free. It's basically like, "Hey Spotify, here, let me just hand you this album that I invested so much money on, and months of my time, so that you can pay me .004 percent of the profit that you're making billions off of (collectively)." Am I supposed to lose tens of thousands of dollars at some other corporation's gain? Most of my recent releases each have over 200,000 streams, and the monetary return from Spotify is a joke. Imagine if those streams were album sales!? I am reconsidering including Spotify in my future releases, due to the lack of return. There have been recent debates about this (mostly from the Superstar perspective) who have stated "who cares if people pay/don't pay for your music, just go play shows!" …that's a wonderful outlook in a perfect world, but what about people (and small businesses) like me? What about struggling DIY bands? Who's going to pay for a producer, and marketing, and printing and pressing, publicity, a music video, payroll systems management, etc, if there is no return on that investment?
GMs: How difficult is it to manage a record label while your husband is still performing all over the world with NOFX, one of the best known punk bands in the last 25 years?
JA: Honestly, a lot depends on the bands. My bands are pretty easy to work with and are gentle on me. The less difficult the bands are, the less stressful my job is. Some days I'm juggling so many things at once, it's like I'm doing eight people's jobs. I'm also very hands on with raising my Son, he's my main priority, first and foremost. I multi-task a lot, I stay up late every night working, or on international phone meetings till 1 or 2am sometimes, then I wake up at 6:30 every morning to take my kiddo to school. It can be difficult, but I push forward every day, no matter how little sleep I've had.
GMs: A) Knowing the punk has never really been mainstream, how do you continue to get the fans excited about a genre of music that has a niche fan base? B) Accessibility to music (file sharing, downloading, iTunes) has changed the industry. Did that even enter your mind when you started thinking about the label and whether it could be successful? I'm not sure how much that has financially affected performers over the last five/ten years?
JA: A.) I grew up listening to punk. Being so personally attached to this genre that I love and know so much, really helps when jumping into the deep-end of this so called "dying scene." I believe there is still a big market and demand for punk, and pop-punk. My goal is to revive what's been kinda stagnant for the last decade, yet do it in a more refined up-to-date way (ie: top quality professional recordings, etc). When you have some of the hottest punk bands from the 90's coming back and releasing albums after such a long dry run, the fans get really excited.
B) You've already heard my rant about the streaming platforms. iTunes however is not so much my enemy. For an iTunes album purchase, I actually make more on that sale than I would on a sale of that same physical unit to a distributor at wholesale …and in addition, I didn't have to order stock, touch product, package, ship, etc. iTunes is effortless, it runs itself and you get a royalty check quarterly. It's simple and less work for me, and it pays higher than my physical distributors. I personally have not purchased a physical CD in years, I've always enjoyed the convenience of iTunes.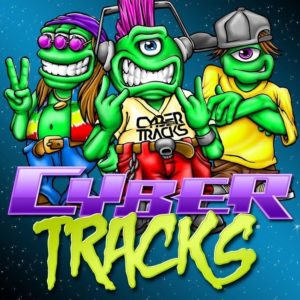 GMs: Do you find other bands are inquiring more, asking about your label and the benefits, considering that you tripled your clientele over last year?
JA: Definitely. It's a little overwhelming, but I am so extremely thankful, honored, and flattered at the amount of support and interest we are receiving. I'm getting so many calls nowadays from bands we know, asking if we'd sign them. Jokingly, I recently told someone "get in line." I wish I could sign everyone I love, and release them all! I'm thinking it might be time to hire a small staff.
GMs: Do you find it a benefit that you and your husband have been apart of the scene for so long? Now that you are the label, do you hold some additional credibility when dealing with bands from a management standpoint?
JA: Let's be real here, my husband's name alone is mostly where our credibility came from since day 1 …which, I am very grateful for. This really helped when starting Cyber Tracks. However, I'd like to believe that we've pretty much proven ourselves as a good company by now, and hopefully Cyber Tracks can kinda carry its own weight from here on out.
GMs: When it comes to the structuring of contracts and finances, how do you determine who gets what, and who is entitled to what? (ie… Does the label get a certain percentage brought in from a concert/tour/record sales, and who draws up these contracts?) What about merchandise sales? how to manage business payments, If the bands are on tour with NOFX, does that affect the financial breakdown even further?
JA: I have a wonderful entertainment lawyer who handles all the label contracts for me. We don't take any money from the bands' tour pay, merch sales, or publishing. We only profit from, and deal with sales of units from the album we released …which we split that profit 50% with the band. Our goal is to make sure that neither party makes more than each other in this department (the label doesn't make more than the band and the band doesn't make more than the label). If one of our bands gets on a NOFX tour, they make their guarantee each night and it's completely theirs. Most bands will use this money to help with their road expenses and getting to the next town.
GMs: Some members of your current label are also members of other bands. How much does that affect the scheduling of tours and dates amongst the core group and also when NOFX brings your bands on tour to gain more visibility?
JA: It can sometimes be a damper on scheduling and such, but it's never been anything we haven't been able to work around. A lot of times, quite a few of our guys do what they call "double duty," where they'll play two sets back to back in different bands. It actually works out kinda great!
GMs: Obviously Cyber Tracks has a tonne of support. The fans are diehard and the music is what will always bring them back. Where do you see Cyber Tracks in the next five years, and do you see it branching out from punk into other genres?
JA: Everyone asks me this! I don't really have an answer for what's to come in the future. I'm just riding this crazy wave called life. I'm putting everything I can into this business because I believe in myself, I believe in my bands, and I believe in music. Music has been my main interest my entire life, and it has guided me to where I'm at now …let's see where it continues to take us!
Thank you to Mrs. Abeyta for her time in completing this interview. I wish you, Aaron, the label, and the bands nothing but success going forward.
To learn more about Cyber Tracks, please visit their website, and follow them on Twitter and facebook.
**Originally published 12/8/2014**