For all you fans of melodic punk, Cyber Tracks' Implants is set to release their new EP in the summer of 2015. With the huge success and amazing fanfare of 
From Chaos to Order
, a follow up album was only a matter of time. The album is being co-produced by El Hefe (guitarist of NOFX, co-owner of Cyber Tracks), and Ryan Greene (Bad Religion, Metallica, NOFX).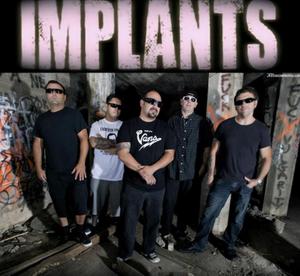 The band, a supergroup to many, has been a part of some of the biggest punks bands in the last 20 years: Ken Conte (The Tank, Brown Lobster Tank) – Lead Vocals, Jim Blowers (Pulley) – Guitar/Vocals, Rob Ramos (Strung Out) – Bass/Vocals, Chris Dalley (Death By Stereo, Ten Foot Pole) – Drums. It was recently announced that Ramos's longtime band-mate, Chris Aiken will be taking over Bass duties on the new EP.
As a fan of the band, I was curious as to know what direction they were going to take on their sophomore effort. Would it sound similar to From Chaos to Order with a few surprises or would the band change things up? I was fortunate enough to speak with the Implants drummer who opened up as to what we could expect.
"The new EP will be a continuation of From Chaos To Order with added elements of where we are headed in the future."
For those interested in learning more, go to the Cyber Tracks homepage / Facebook page as well and the Implants Facebook page for all updates. All you twitter fans can check them out here: @CyberTracks, @implantsband, @ImplantsDrummer, @newliarken