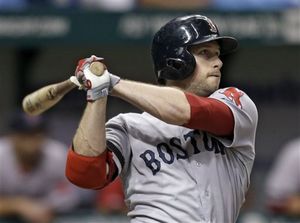 Daniel Nava is a World Series Champion. In 2006, undrafted out of Santa Clara University, odds are he didn't think that was possible. Eight years later he's still in the big leagues and recently signed a 1-year deal with the Los Angeles Angels for $1,375,000.
Nava's 2006 senior season at Santa Clara University was anything but regular. He batted .395 with 37 RBI and had a .494 OBP with 1.024 OPS. Conventional wisdom suggests that those numbers would get anyone drafted. Nava didn't, but he would take an unconventional route to a place every baseball player dreams of. Never too high or too low, Nava credits his mental toughness with being able to deal with the ups and downs that come with a professional baseball career. It hasn't been easy, but he credits determination, self-preservation, and more importantly, his faith as how he has been able to stick with this.
"I've found that in the craziness of this sport, of me going up and down, [faith has] been like a rock for me to fall back on. I personally believe I'm here to do more than play baseball."
Undrafted, he was cut when he went and tried out for the Independent Chico Outlaws of the now defunct Golden Baseball League. Nava signed with the Outlaws for the '07 season and produced staggering numbers that resulted in a league MVP. Nava's lone Indy season was historic. In 72 games he batted .371, with 12 home runs, 59 RBI, had an OBP of over .470, and slugged nearly.630. Over one-third of his 95 hits went for extra bases.
From that point on his career skyrocketed. He decimated minor league pitching never hitting below .339. Come 2010, the outfielder who hit all the time, but never got that elusive opportunity, was called up by the Boston Red Sox. He did not disappoint. On the first pitch of his first Major League at-bat, he took Joe Blanton deep for a grand slam. You couldn't write anything better. The years of grinding and sacrifice culminated in a moment Hollywood couldn't even script.
The next couple years saw him bounce back and forth from the farm team to the big club. Nava was a starter for the Red Sox in 2013 and earned a spot in the heart of Sox fans everywhere. He played in his only full season with the Sox and didn't disappoint. Splitting time in the outfield between Shane Victorino and Jonny Gomes, Nava belted 29 doubles, went deep 12 times, and drove in 66. His .303 batting average was second amongst starters (David Ortiz).
Nava has not produced the same sort of numbers in the last two seasons, his role was reduced and spent most of it in the minors. His fairy tale career in Boston even came to an end when the Red Sox placed him on waivers. He was subsequently signed by their division rival Tampa Bay Rays. He appeared in 31 games for the Rays and produced very little compared to previous seasons. After refusing a minor league assignment at Triple-A Durham, he became a free agent this past November. Fortunately, Nava was not on the market too long.
Angel fans did not get the superstar they were looking to put next to Mike Trout, but they get a player who will give his all every single game. Nava is not flashy and is not a highlight reel guy like his counterpart, instead he is someone that younger and older players can look up to.  Likely a utility player for the remaining years of his career, teammates and coaches should take advantage of someone who's been there and done that.