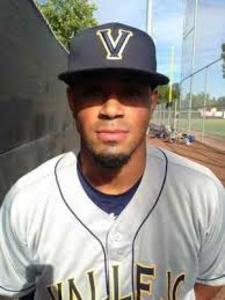 Kida De La Cruz capped off the Arizona Winter League's 10th season in style
The former 28th round pick of the Washington Nationals in the 2014 MLB June Amateur Draft impressed more than just his Team Canada teammates.
According to the AWL, De La Cruz, who went 4-0 with a 2.10 ERA in 21 1/3 innings, signed a minor league deal with the Los Angeles Angels of Anaheim after an impressive January/February.. Cruz, who has a history of issuing a lot of walks, kept that under control in the Winter League surrendering 11 free passes, while striking out 27.
Team Canada manager, Brooks Casey had nothing but good things to say about Cruz, who without a doubt, is an intimidating presence on the mound at 6'5" and 240 lbs.
"A big physical pitcher that's starting to put it together. When he does the sky is the limit for Kida. I wish him the best of luck."
Cruz spent two years within the Nationals organization. In 16 games he struck 12 while walking 13 in 19 innings. Upon his release, he spent time with the Vallejo Admirals of the Pacific Association of Professional Baseball Clubs.
At first glance his 3-4 record and 6.65 ERA with the Admirals is not the most reassuring stat line you've ever seen, but his time was well spent and has now become the second Admiral to sign a professional contract.
Cruz was recently assigned to the Burlington Bees, the Angels' Single A affiliate.