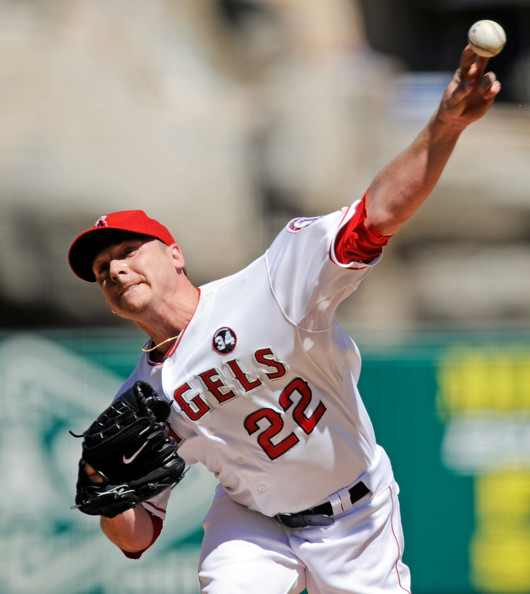 2010 continues to be a struggle for Angels starter Scott Kazmir, a 6.51 ERA in seven starts, 28 strikeouts compared with 20 base on balls and batters are teeing off with an aggressive .295 average.
With numbers like that mid-way through the second month of the season, a seat in the bullpen might seem like the logical choice; however, optimism has crept into Kazmir's rear view mirror, giving the fans a glimpse of a possible turnaround.
The Kazmir of old appeared during the Angels May 17 game against the Texas Rangers.
On this day, Kazmir went seven strong innings, his longest outing of the season, walking one and striking out four.  Credited with the loss, his fourth of the season, management has to be pleased with the results.
Going into the game lefties were hitting 11 for 19, .579, which is very surprising.  Throughout Kazmir's career, he has handled left-handers very well, keeping them below .230.
Why the optimism?
Subtract a four-run third inning and you have dominant performance from a former first-round draft pick.
Anyone who has played understands the struggles one goes through especially when you do not have your best stuff.
For Kazmir, injuries and aggressiveness, according to scouts, has always been two of his setbacks, velocity and "hittability" can be added to the list of concerns.
This season I have been following Kazmir through his struggles in Spring Training, and his earlier outings.  A recurring theme is the velocity of his pitches and the rate at which hitters are making contact with those pitches.
One full mph is gone off his fastball from last year, the slider, a once dominant pitch, has seen nearly a five mph drop-off from 2006, that pitch is also being used less frequently, possibly due to nagging injuries and wear and tear on the elbow.
A disturbing sign is how often Kazmir is throwing his change up, a pitch now thrown nearly 22 percent of the time, also slower than the previous year.
The number of pitches swung at by hitters facing Kazmir is at a career low (63.6 percent), corresponding with the high number of walks (20 BB in 37 innings).
Add that, eight out of ten times Kazmir is in the strike zone, hitters are making contact.
All these numbers can make you dizzy, just reading them shows that one cannot grade them as a pass.
Kazmir is at a point where he can turn those negatives into positive.
His struggles are no surprise, except each pitch thrown, each strikeout, each completed inning can raise one confidence, unequivocally.
No doubt, that injuries, and looking at a scoreboard showing you continually behind, can and will damage ones psyche, yet Kazmir, that "can't miss prospect" is slowly turning into that "crafty veteran".
Kamzir's best "stuff" maybe gone, nevertheless, competing against the elite, will in-turn elevate your game.
I can tell you from experience, a pitcher is only as good as his last pitch.  Coming back from that last pitch will determine the outcome of the next hitter.  Giving up a home run, and then inducing a ground out to second by the next hitter,  shows one can learn from mistakes.
Kazmir gives up four runs in the third.  Inning ending double plays conclude the fourth and fifth innings while the sixth and seventh fly by.
In a game dominated by stats and decimals, information that I use on a continual basis, information that is more often than not concrete evidence, can be unwritten, by the skill of one that is seemingly learning how to pitch all over again.
Devon Teeple is an author for the Business of Sports Network, which includes the Biz of Baseball, the Biz of  Football, the Biz of Basketball and the Biz of Hockey.   He is a former professional baseball player with the River City Rascals & Gateway Grizzlies. Devon is also available for hire or freelance opportunities.
Devon is a former student within Sports Management Worldwide's Baseball General Manager Class. Devon is the founder of The GM's Perspective and is a intern with The Football Outsiders and contributor with the Plymouth River Eels.
Currently, Devon is a Branch Manager at a financial institution in Southern Ontario Canada.  He can be reached at devon@thegmsperspective.com , thegmsperspective@yahoo.com or devon@businessofsportsnetwork.com
Follow The GM's Perspective on