The Boston Red Sox signed Johnny Bladel of the Southern Maryland Blue Crabs.
That opening statement won't raise the eyebrows of any readers unless your a staunch follower of Independent baseball.  Bladel went undrafted out of James Madison University. There, he hit .328 over 188 games in with a .466 OBP including .487 in his senior year.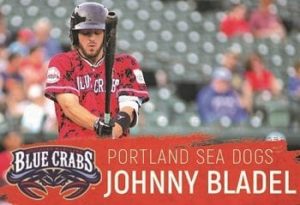 Instead of shutting it down, he signed with the upstart Trinidad Triggers of the Pecos League and put together a season to remember.
In 48 games with the Triggers, Bladel hit batted .518 with a .630 OBP and .910 slugging (1.540 OPS). Of his 86 hits, nearly 50 percent went for extra bases; 22 doubles, 2 triples, and 13 home runs.
A complete surprise? Not even close.
Since his breakout campaign in the Pecos League, he's advanced through the Indy ranks, and if you can believe it, had an even better season in 2017.
Last year Bladel was a member of the New Jersey Jackals of the Can-Am League. Now, no disrespect to the Pecos League, but the competition is not on par with the big four (ATL, Atlantic, Frontier, Can-Am).
In 99 games, the versatile Outfielder/Second Baseman/Relief Pitcher hit .345 (second in the league) with eight home runs, 55 RBI. His 29 doubles, seven triples and 32 stolen bases and 135 hits led the league.
Fast forward to 2018. Bladed comes out of the gate hitting at a .400 clip for the first three weeks of the season and by the time he signs with the Red Sox, he's ranked fourth in the Atlantic League hitting .341 and ensuring he's not going to miss an opportunity to play at the next level.
Bladel's ascension is very similar to another Red Sox pick up from years past; Daniel Nava. Nava went undrafted and had one of the best unaffiliated seasons ever. When he finally made his MLB debut, hit a grand slam in his first at-bat.
Can Bladel become the next Indy poster boy? You never know, but with the way he's so consistent at every level, it all looks very promising.
**Photo courtesy Southern Maryland Blue Crabs**