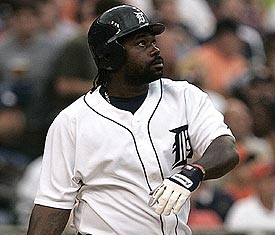 Dmitri Young, a 13 year veteran and career .292 hitter, with most of his success coming with the Detroit Tigers in the mid 2000's, has been named vice-president of the Oakland County Cruisers of the Frontier League.
"What you're going to see is good old-fashioned baseball and people able to take their families to the baseball game," said Young, who also signed autographs and answered questions from a number of youngsters in the gathering.
The Cruisers history in the Frontier League, is short, but interesting.
In 2007 the Baseball Heroes of Oakland County, LP, began to take ticket deposits, with their ultimate goal being to purchase the Midwest Sliders of the same Frontier League.
With more than $1 million raised, the purchase was ultimately successful.
The Sliders were essentially a traveling team the past couple of seasons while finances were taken care of by new ownership.
With a new season on the horizon, and a new VP in place, the only thing left for the club is a new stadium, as the Sliders played the majority of their home games at Eastern Michigan University.
Near completion and looking to host its first home game on July 16, additional financing appears to be the only hitch to its completion.
According to Rob Hilliard (Director of Stadium Operations), the BroSente Group, a local real estate firm, has been in contact with parties in Long Beach, Calif., to help with financing. "They basically put us in touch with (them) … and it's now going through processing," he said.
"We have a confidentiality agreement signed (but) within the next 15 days we expect to receive our terms and conditions sheet."
While any franchise in independent baseball is a long-shot, it appears the Cruisers are on the right path.
With three years of preparation and a legitimate baseball mind at the "wheel", its realization is now only weeks away.
Devon Teeple is an author for the Business of Sports Network, which includes the Biz of Baseball, the Biz of  Football, the Biz of Basketball and the Biz of Hockey.   He is a former professional baseball player with the River City Rascals & Gateway Grizzlies. Devon is also available for hire or freelance opportunities.
Devon is a former student within Sports Management Worldwide's Baseball General Manager Class. Devon is the founder of The GM's Perspective and is a intern with The Football Outsiders and contributor with the Plymouth River Eels.
Currently, Devon is a Branch Manager at a financial institution in Southern Ontario Canada.  He can be reached at devon@thegmsperspective.com , thegmsperspective@yahoo.com or devon@businessofsportsnetwork.com
Follow The GM's Perspective on