UFC 199 was a stacked card, a Pay Per View event where every fight on the main card delivered. But underneath all the hype, all the promotion, a champion defended his title and solidified himself as a Hall of Famer and one of the best fighters ever.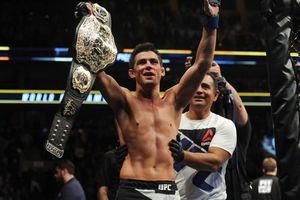 Dominick Cruz, arguably one of the best pound for pound fighters in the world, came back from an enormous layoff due to injuries and defeated the T.J. Dillashaw for the UFC Bantamweight Championship early in 2016, only his second fight since 2011. This past Saturday night, Cruz ended a decade long feud with longtime fan favorite Urijah Faber, winning via unanimous decision.
Cruz is not your average run of the mill fighter. A veteran of the octagon for over 11 years, he's amassed a near spotless record of 22-1, the only loss coming from Faber in 2007. Even more impressive than his record is his resilience. Cruz has battled injury after injury that kept him out of action for over four years (2011-2014). Three ACL injuries, quad damage and a lingering foot injury has made him put his championship aspirations oh hold. For someone on the top of their game, being sidelined in his prime must have been excruciating physically and mentally.
"I've had three ACL injuries that I've had to get through, which basically, if you know anything about ACL recoveries, it strips the muscle completely off the bone," Cruz said Thursday during UFC Fight Night media day at The Westin Copley Place. "I was down to nothing, and I had to rebuild that three separate times. Plus, I tore the quad off my bone. All of those injuries just stacked up. At one point, I didn't know what I was going to do. I didn't know if I was going to fight again or if my body would let me.
…
"The fight against Mizugaki showed me what I had. It showed me how strong my body really is. Really, more than anything, that's what I needed to know. I needed to put trust not in my mind and in my ability, but in my body. I had to rebuild my body, and I did."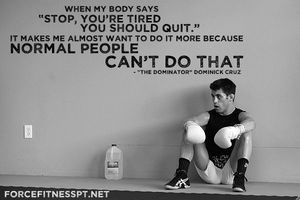 It takes immense dedication to come back from an injury, let alone multiple career threatening injuries.  How many times could Cruz have walked away from the fight game? In the meantime, he's been supplementing his down time by commentating on UFC events broadcast on Fox. He knows the fighters, he knows the game and he's a natural behind the camera. But for someone who hasn't lost in nearly 10 years, the only thing keeping him away from competing was not from a loss, but was from his body breaking down.
At 31 years old, Cruz still has plenty of time to defend his title in a stacked Bantamweight division, but what separates him from everything else is his determination to win. Nothing will stop Cruz from being one of the greatest fighters in history. In the face of adversity, Cruz is a legitimate HOF'er. More importantly, he's proven that any athlete can come back from the brink. Regardless of the obstacle, the only person who can stop you from succeeding is you.