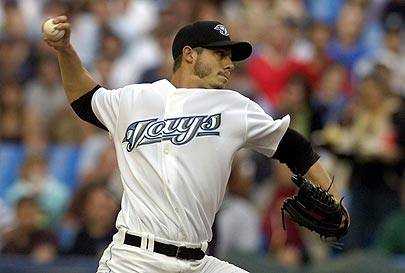 The long road back has taken another turn for the worse.
Since having shoulder surgery in July 2008, Dustin McGowan has been trying to get back  to "the show", unfortunately, the road to recovery has not been too kind.
It has been 10 years since the Toronto Blue Jays drafted McGowan 33rd overall in the 2000 amateur draft.
2007 was his breakout season, and there was little hesitation after that campaign to name him a legitimate number three starter who had done nothing but improve each  season.
Dating back to McGowan's early minor league seasons there was hardly any doubt that he had the stuff to compete amongst the best.
In '03 playing for Dunedin and New Hampshire, McGowan put together, arguably, his best minor league season; 12-6, with a 3.01 ERA, 150-plus innings pitched, with 138 strikeouts, or 8.2 strikeouts per nine innings.
In his eight minor league seasons, McGowan's cumulative ERA was 3.81, and he averaged more than a strikeout per inning after nearly 600 innings.
Those numbers undoubtedly translated into success upon being called up by the Jays in '05.
I was skeptical, as I am sure many others were when McGowan was a fixture in the rotation after seeing limited activity in his previous two MLB seasons.
As I mentioned before, '07 was his coming out party.
Holding opponents to a .230 average, while recording  144 strikeouts is very, very good for someone in their first major role of responsibility.
Unfortunately, 2008 was a different story.
There were no underlying signs of arm trouble.  His fastball was still averaging 94.8 mph and his secondary pitches (slider, cutter, curveball, change-up) were all near top speed compared to '07.
Fast forward to 2010.
McGowan, who was showing signs of improvement after several successful bullpen sessions in spring training.
After experiencing "sharp pains" after only eight pitches in a mid June workout, renowned orthopaedic surgeon Dr. James Andrews, found something during a recent MRI.
According to a Blue Jays release on MLB.com, surgery is to "increase the range of motion in his right shoulder as well as evaluating the health of the rest of the shoulder".
In all likelihood, 2011 is a write-off, with the remainder of this year and next dedicated to rehabilitation.
McGowan signed a one-year $500,000 contract that concludes after the 2010 season. Will the Jays take a chance and resign this  starter with former  No. 1 potential?
Only new GM Alex Anthopoulos knows, when asked during a recent interview with the National Post.
Asked how long the Jays are prepared to stick with McGowan, once one of their top pitching prospects, Anthopoulos replied: "as long as we feel there is hope."
Devon Teeple is an author for the Business of Sports Network, which includes the Biz of Baseball, the Biz of  Football, the Biz of Basketball and the Biz of Hockey.   He is a former professional baseball player with the River City Rascals & Gateway Grizzlies. Devon is also available for hire or freelance opportunities.
Devon is a former student within Sports Management Worldwide's Baseball General Manager Class. Devon is the founder of The GM's Perspective and is a intern with The Football Outsiders and contributor with the Plymouth River Eels.
Currently, Devon is a Branch Manager at a financial institution in Southern Ontario Canada.  He can be reached at devon@thegmsperspective.com , thegmsperspective@yahoo.com or devon@businessofsportsnetwork.com