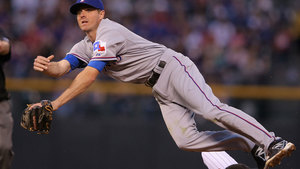 It didn't take long for Josh Wilson raise some eyebrows. After resigning with the York Revolution for a second season, the veteran infielder signed a minor league deal with the Texas Rangers' Triple-A affiliate (Round Rock Express) becoming the first Revs player to sign with a Major League franchise this season.
None of this is new for Wilson who's entering his 19th pro season. He was drafted by the Florida Marlins in the third round of the 1999 MLB June Amateur Draft. While at Mount Lebanon HS, Wilson was named the State Player of the Year, and helped guide his team to a state championship.
The Rev's loss is Round Rock's gain. Wilson was to play a major role with the team this year, regardless, Revs manager Mark Mason didn't expect anything less from someone who goes above and beyond the call of duty for any team he plays for.
"I'm really excited for Josh," commented Mason. "I believed he should have had an infield job in the big leagues, and I'm very happy for him to have a chance to pursue that. He came here and was a consummate professional for us and put himself in position to have this opportunity. That's what our league is all about."
Wilson may not be your everyday household name, but after eight years at the MLB level (with nine different teams) and with over 431 games under his belt, his track record is stable enough that any team who claims him will get a guy who can play anywhere at any given time.
In just under 1,100 at-bats he's amassed a career .229 batting average with 10 home runs and 84 RBI. You'll even get a guy with who can steal a base when needed (14/18).
At 36 years old, the clock is winding down on his career, but the Indy's have proven once again that despite everything that's happened in the past, if you have talent someone will find you.