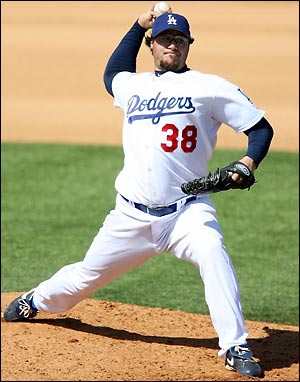 Baseball is a funny game.
One minute you are considered the most lethal,  dominant closer this game has ever seen, next you are being booed by your home crowd, on your way to independent baseball.
That is what makes this game so irresistible,  and endearing to its players and fans.
Despite all the heartbreak one endures during a career, one's competitiveness brings them back, wanting to prove naysayers wrong.
Eric Gagne, was that X-factor, a word many throw around these days, although is his case it was true.
In a span of 23 months, Gagne put together a streak that could rival some of the best that sports has ever seen.
84 saves in 84 chances.
In a game riddled by failed starters turned relievers turned closers, it has diminished a statistic that is mocked by many.
Many historians and statisticians, have proclaimed that anyone given the opportunity can hold a three-run lead in the eighth and ninth inning.  I even  discussed that theory in one of my first posts on The GM's Perspective called Baseball – The New Revolution,
"pitchers in the bullpen are usually considered less as effective than the starters on the team.  They bullpen is made up of a variety of pitchers; middle relief, the set-up-man, and the closer.  In an article on Baseball Prospectus called "How to run a Bullpen" by Derek Zumsteg, he examines the intricacies of running a bullpen properly.  With data piled up from the past 28 years, there was a study done by Keith Woolner, which shows the average number of runs scored per inning.  With a number of variables entered into his formula, you can get a picture of the average number of runs scored in an inning based on teams that score 3.5, 4.5, and 5.5 runs a game.  Based in his study from data from the years of 1980-1998, 94.6% of all innings had less than three runs scored, 87.8% had less than two and 73% of all innings played had no runs scored.
With taking this data, we all know that a save situation is an appearance that a pitcher makes to protect a three run lead in the ninth.  The save is a statistic for the appearance only.  Would you not want your best reliever on the mound in the turning point of the game?  The turning point of the game could be a bases loaded jam in the sixth.  In 2008, the Texas Rangers scored 901 runs, which translates into .617 runs per inning.  To put these numbers into perspective, Josh Rupe of the Texas Rangers; appeared in 46 games and racked up a record of 3-1 with a ERA of 5.14, gave up 51 earned runs in 89.3 innings in 2008, an average of .567 runs a inning. Theoretically, he could enter the game with a three-run lead and give up one run each time and rack up the saves."
Most of that may be true!, but what Gagne accomplished in those 23 months staggers even the greatest baseball minds;
More saves (84), than hits allowed (71)
More saves (84), than baserunners (61)
a 3-1 strikeout to walk ratio, 207 – 71
Struck out at least one hitter in 77 of 84 saves
An ERA of 0.82 in save opportunities
Struck out 14.3 batters per nine innings
Inherited 23 runners during the streak, none scored
The above information provided by ESPN.com
During that time Mariano Rivera was 70 for 77.
Reaching the pinnacle is the easy part, staying there is the hard part.
Since winning the 2003 Cy Young Award, things have taken a turn for the worse; elbow injuries, a torn rotator cuff, back surgery, hip surgery, and the recent admission of HGH use.
In two failed seasons with the Boston Red Sox  (a 6.75 ERA) and Milwaukee Brewers (5.44 ERA with 10 saves in 17 opportunities), Gagne was out of Major League Baseball.
Baseball is a funny game.
One of the games former elites spent 2009 with the Quebec Capitales of the independent Can-Am League.
A 6-6 record in 102 innings and a full year of regaining strength  in his battle tested arm, earned Gagne a shot with the Los Angeles Dodgers, the club with whom he started.
Unfortunately, his comeback has taken a hit.
Three appearances and six runs on eight hits in just under three innings, makes for a 20.25 ERA.
Gagne was re-assigned to the Dodgers Minor League club on Monday.
"Gagne needs innings to build up his arm strength, and to get back the feel of his changeup," Colletti said in Tempe, Ariz., where the Dodgers were meeting the Angels in Cactus League play. "From here on out, those innings weren't going to be there for him in the big league camp."
Gagne's deal includes an opt-out clause if he is not added to the Major League roster by Opening Day, April 5,  confirms  general manager Ned Colletti.
Devon Teeple is an author for the Business of Sports Network, which includes the Biz of Baseball, the Biz of  Football, the Biz of Basketball and the Biz of Hockey.   He is a former professional baseball player with the River City Rascals & Gateway Grizzlies. Devon is also available for hire or freelance opportunities.
Devon is a former student within Sports Management Worldwide's Baseball General Manager Class. Devon is the founder of The GM's Perspective and is a intern with The Football Outsiders and contributor with the Plymouth River Eels.
Currently, Devon is a Branch Manager at a financial institution in Southern Ontario Canada.  He can be reached at devon@thegmsperspective.com , thegmsperspective@yahoo.com or devon@businessofsportsnetwork.com
Follow The GM's Perspective on