Eric Patterson is not a big name in the baseball world. He's one of those journeyman traveller types that goes year to year appearing in about 50-90 games, does a decent job when he's in there, but never really gets credit for the job he's doing.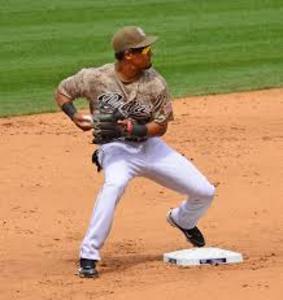 Patterson was drafted by the Chicago Cubs in the 8th round of the 2004 amateur draft. He made his MLB debut in 2007 after putting up terrific numbers in the minors, including batting at a .297 clip at Triple A Iowa. He belted 14 home runs while driving in 65. He also stole 24 bases. He appeared in seven games with the Cubs that year hitting .250. From there his career consisted of bouncing from the minors to the big club despite a .295 career average in over 450 games in Triple A.
His numbers in the minors were always consistent, yet that never transferred over when he got called up. Could it be due to lack of playing time or just being at the wrong place at the wrong time? Patterson is not the first to experience this and he won't be the last. There are plenty of talented guys who are dynamic at Triple A but can never bridge that gap to the MLB game. Lucky for us, independent baseball allows these AAAA guys to get the playing time needed to fully showcase their abilities.
Patterson, who can play any outfield position as well as second base, played five years at the Major League level splitting time between the Cubs, Oakland Athletics, Boston Red Sox, and San Diego Padres. In 226 games, Patterson hit 10 home runs and recorded 50 RBI. He stole 35 bases in 40 attempts. After signing a minor league deal with the Detroit Tigers in 2012, Patterson exercised his opt-out clause essentially giving him his release, allowing him to search for other opportunities.
Patterson raised some eyebrows during his first Indy season with the York Revolution. In 62 games, he batted .275 with 13 home runs and 38 RBI. Considering he spent much of the year in the leadoff role is even more impressive. After spending 38 games with the Brewers Double A team, a pedestrian .204 average led to his release, and an eventual minor league deal with the Chicago White Sox in January of 2014. Two months later the Sox released him.
Bringing us to 2014, no one could have imagined the year he was about to put together. In his first full professional season since 2007, Patterson had as good of a season as anyone. In 500 AB's, he went deep 15 times, drove in 86, hit .301 and had a .913 OPS. His 86 RBI was good for 6th in the Atlantic League, his 35 doubles good for fifth and his league record, 17 triples (yup), led the league.
Needless to say, Patterson's return to the Revolution is a big boost to a team that finished three games behind the league champion, Lancaster Barnstormers. In addition, his story is one of hope and determination, another prime example of an athlete not giving up on a dream.