With the 2010 NCAA Baseball season in full swing, ESPN has released it's schedule for televised games, see below;
| | | | | | |
| --- | --- | --- | --- | --- | --- |
| Date | Time | Station | Status | Home | Away |
| | | | | | |
| 4-Apr | 2:00pm | ESPNU | Live | Mississippi State | South Carolina |
| 11-Apr | 5:00pm | ESPNU | Live | Cal State Fullerton | UC Irvine |
| 18-Apr | 2:00pm | ESPNU | Live | Auburn | Vanderbilt |
| 23-Apr | 4:30pm | ESPNU | Live | Radford | Winthrop |
| 30-Apr | 5:00pm | ESPNU | Live | Kentucky | Tennessee |
| 1-May | 9:00pm | ESPNU | Live | Baylor | Texas |
| 7-May | 8:00pm | ESPNU | Live | Arkansas | Ole Miss |
| 8-May | 8:00pm | ESPNU | Live | Arkansas | Ole Miss |
| 9-May | 5:00pm | ESPNU | Live | UC Irvine | Cal Poly |
| 20-May | 6:00pm | ESPNU | Live | Louisville | Notre Dame |
| 24-May | 5:00pm | ESPNU | TD From 5/23/10 | MEAC Champ. | |
| 30-May | 12:00pm | ESPNU | Live | BIG EAST Champ. | |
| 31-May | 6:00pm | ESPNU | TD From 5/30/10 | SWAC Champ. | |
| | | | | | |
| Date | Time | Station | Status | Home | Away |
| | | | | | |
| 2-Apr | 8:30pm | ESPNUHD | Live | Georgia | LSU |
| 3-Apr | 3:00pm | ESPNUHD | Live | Texas | Oklahoma |
| 9-Apr | 8:00pm | ESPNUHD | Live | Ole Miss | Georgia |
| 23-Apr | 8:00pm | ESPNUHD | Live | LSU | Ole Miss |
| 1-May | 2:00pm | ESPNUHD | Live | LSU | Florida |
| 2-May | 1:00pm | ESPNUHD | Live | LSU | Florida |
| 14-May | 8:00pm | ESPNUHD | Live | Georgia | Florida |
| | | | | | |
| Date | Time | Station | Status | Home | Away |
| | | | | | |
| 16-Apr | 7:00pm | ESPN2HD | Live | Georgia | Arkansas |
| 15-May | 4:00pm | ESPN2HD | Live | Ole Miss | Alabama |
| 30-May | 2:00PM | ESPN2HD | Live | SEC Champ. | |
For more information regarding NCAA Baseball, click here.
And for all you historians and enthusiasts, the 2010 College World Series will make the end of an era, with the hopes of beginning another.
Omaha Municipal Stadium, or as you may know it, Rosenblatt Stadium, has been home to the CWS since 1950.  Unfortunately 2010 will be its last as TD AMERITRADE  Park Omaha (opening in 2011) will look to make its own memories.
Traditions 60 years old end, however in the long run it looks to benefit all parties involved.
A 20-year naming and services agreement is valued at an estimated $20 million over its term, in turn boosting the local economy and strengthening a brand in the process.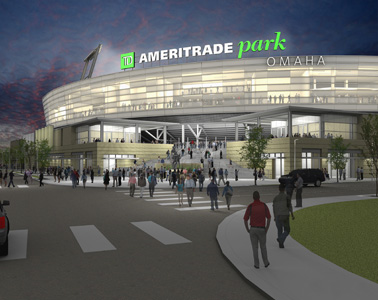 TD AMERITRADE Park Omaha will have the dauniting task of trying to live up to past reputations, but the CWS is about family entertainment, creating a fan friendly atmosphere, and giving the student-athletes involved an experience they will not soon forget.
Devon Teeple is an author for the Business of Sports Network, which includes the Biz of Baseball, the Biz of  Football, the Biz of Basketball and the Biz of Hockey.   He is a former professional baseball player with the River City Rascals & Gateway Grizzlies. Devon is also available for hire or freelance opportunities.
Devon is a former student within Sports Management Worldwide's Baseball General Manager Class. Devon is the founder of The GM's Perspective and is a intern with The Football Outsiders and contributor with the Plymouth River Eels.
Currently, Devon is a Branch Manager at a financial institution in Southern Ontario Canada.  He can be reached at devon@thegmsperspective.com , thegmsperspective@yahoo.com or devon@businessofsportsnetwork.com
Follow The GM's Perspective on