From the highest levels of collegiate baseball at Florida to the professional ranks within the Minnesota Twins and Toronto Blue Jays organizations, Tony Davis has seen most of what the game has to offer.
This may seem like your typical pro baseball feature, but there is a game within a game and no story is the same. After six years in professional baseball, Davis is now retired, but that competitive spirit has continued off the diamond.
We were able to catch up with Davis and engage in fascinating discussion about the game, education and what it takes to live out your dreams.
The GM's Perspective: Tony, been a few years since we last spoke. Unfortunately, after six years you had to hang up your cleats.
Can you go through your process when you thought after all these years of playing through the amatuer ranks, college (Florida Gators), and the pros that it was time?
Tony Davis: It's a great question and I've been asked this before. I just wanted to make sure that when I was ready to move on I didn't look back with regrets. I didn't want to be bitter about it. I wanted to be able to watch baseball at 50 years old and look back at those opportunities with a smile.
I was with the Texas Rangers in Spring Training and ended up getting let go. I had done the Independent ball thing before and knew that was an option if I wanted to go that route. But, this was the perfect time for me to move on. I was released for the second time, a year away from my degree, and getting older by the day.
I was at peace with it. I wasn't afraid of what was next, I was excited.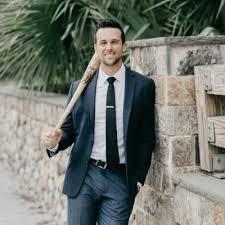 GMs: You've played at the some of the highest levels and worked your way from the Indy game back to another opportunity (Toronto Blue Jays). What did those travels teach you?
TD: Professional baseball at the minor league level teaches you mental toughness. You're chasing after something that is not guaranteed. Of course every minor league player wants to be a big leaguer and not all of us get there. When you're away from your family and on the road not performing well…that eats at you.
Mentally, that's what prepared me most for the next chapter. It teaches you grit, mental toughness, and how to be a man. Also, how to make adjustments. Nothing is handed to you.
GMs: In your experience what advice can you give those players currently in Indy ball or debating on whether to sign that contract?
TD: It's a case by case scenario for each guy. For me, I felt great physically and mentally and my work wasn't done. At that point, I wasn't ready to move on, and it ended up being one of the best experiences of my playing career. It allowed me to remember why I was playing the game in the first place.
Guys who haven't experienced Indy ball aren't familiar with its caliber. I have news for ya, some of the best unsigned players are right there. You could take most Indy ball squads and put them up against a Double-A team and they would hang just fine. It's top quality baseball.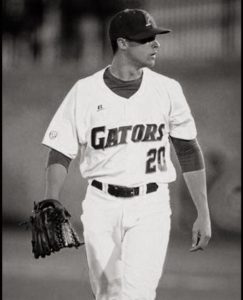 GMs: A lot of ex-players go in to coaching, but you took a different route!
TD: I decided to go the route of a financial advisor. I was very fortunate to link up with a group in south Florida who actually works with professional athletes. I didn't happen right away. It was actually a couple year process after I stopped playing before I met the right people. It felt like I had 99 no's before I got that yes!
GMs: Was finance something you were always interested in? You majored in sports management at Florida, right?
TD: Correct. I started thinking about switching to finance from sports management when I re-enrolled, but that was going to take another 18 months. The people I spoke with told me that in this business you need to get your experience and licenses and work your butt off. Even without a finance degree, I was able to get my foot in the door.
GMs: You've also been speaking to students at your alma mater, The University of Florida. Can you elaborate?
TD: I've kept in touch with some of the faculty at Florida and when they brought forward the idea of speaking to one of the sports management classes who were nearing graduation I jumped at the chance. I wanted to leave those students with something helpful they could take with them. So as opposed to talking specifically about the business, the conversation actually morphed into a chat about life through college, life after college, and some of the obstacles you're going to face. I tied that in to my story. I plan on going back in the fall to do the same thing.
GMs: Any words of advice for aspiring athletes out there?
TD:  It's your journey. There's no script, no playbook. Enjoy the ride, work hard, and pour everything you have into it. You'll never have regrets if you gave it everything you could.
Regarding education, you need a plan. But again, that's your own journey. It depends what you want to get into after your playing career. I received my degree at 27, and felt like I was behind. But looking back, I realize everything I had experienced up to that point prepared me for what I am doing now. You can't replace real life experiences with a classroom.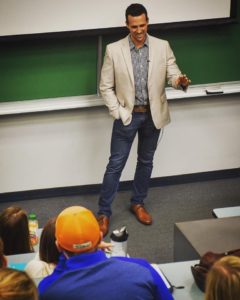 GMs: Your story is very similar to mine. I went back to school and got my degree at 35 and now am a couple classes away from getting my master's degree. You have to have that drive to want it and the determination to move forward.
TD: Absolutely. I've always followed your site and love the trend of what you do. It's not the typical interview or profiles of people who had success. It's always motivating to hear what other people have gone through to achieve a dream. Success is not easy.