Best known for his relief days with the Cleveland Indians, Vinnie Pestano has signed with the Long Island Ducks of the Independent Atlantic League.
Pestano is beginning his second indy season. Last year he was with the Bridgeport Bluefish and put together a typical season if you're familiar with the early part of his career; 1-1, 3.25 ERA, 1.157 WHIP and nearly 10 K/9.
Prior to Bridgeport and Long Island, Pestano was a mainstay in the Indians bullpen between 2011 and 2013. Those three years, alongside Chris Perez, Joe Smith, Tony Sipp, Bryan Shaw and Cody Allen, the self-proclaimed "Bullpen Mafia" helped build an atmosphere of winning that's carried over to this day.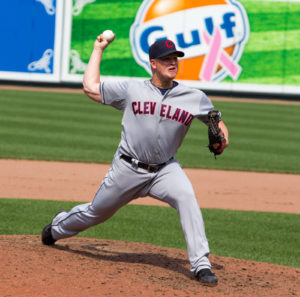 Injuries plagued him early in 2013 and followed him after he got traded to the Los Angeles Angels for a little known minor leaguer turned current Indians starter, Mike Clevinger. He was never able to regain his previous form and has not appeared in a Major League game since 2015. He's since bounced around the minors spending time in the Angels and New York Yankees organization.
The Ducks, who acquired Pestano and 11-year vet Wander Perez in the Bluefish dispersal draft last November, bring experience and uniqueness to the three-time league champs.
"Vinnie and Wander both help bolster the back end of our bullpen," said Ducks President/GM Michael Pfaff. "Their unique deliveries and Atlantic League experience make them valuable additions to the club."
If Pestano performs the way he should, there's no question he could be picked up by a club during the regular season. For someone with a career 2.98 ERA and nearly 11 K/9 at the MLB level, he can get guys out. He's proven it time and time again at the highest of levels.