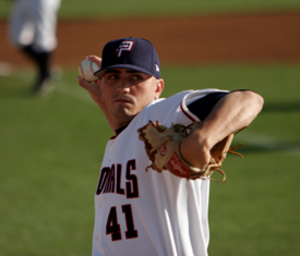 Drafted in the 20th round of the 2003 MLB amateur draft out of St. Peter's High School, Terrence Engles had it all. He spent six years in the minor leagues as a member of the Washington Nationals organization and was fulfilling every kid's' childhood dream.
Unfortunately, this is not your typical story of a minor league baseball player. Engles wasn't only battling opponents on the field, but battling an invisible opponent off it.
The GM's Perspective: You said you started doing drugs in high school and had everything under control. But once you got to college, things got out of hand. Looking back on it now, what was the catalyst? Wrong place wrong time? Bad Influences?
Terrence Engles: I got to college and was on my own and I didn't have anyone looking over my shoulder. That made a huge difference. I was able to do whatever I wanted. I had a curfew, but that really wasn't enforced. I took advantage of the freedom and went overboard.
GMs: You talk about the injuries you sustained during your playing career, and the pressures to perform and live up to expectations. Can you describe what you were feeling at that time knowing the pressure you were under? I don't think the people really understand what an athlete deals with on a day-to-day basis?
TE: A lot of that pressure was put on by myself. I'm very hard on myself and I want to succeed. It did affect me negatively, but that drive and motivation affected me positively. At that young age I didn't know how to deal with it. I've had that feeling of trying to be perfect since I was very young and that's probably why I made it to the levels I did.
Baseball is a really mentally strong game and even the best have their struggles with it. Most of the guys I played with in rookie ball were just as talented as the guys that were already in the major leagues, but they are a little more consistent and their physically abilities are more heightened. Mentally they just know how to handle the failure that comes with it. I know that the failure really got to me and I put a lot of pressure on myself to be perfect. It's impossible to be perfect every time, and once I stepped off the field I turned to drugs and alcohol to deal with that feeling of failure.
GMs: It has to be difficult living daily with this huge weight on your shoulders. On one hand, you are living the dream every kid wants. On the other hand, you're carrying around this secret. I have been dealing with anxiety and depression for as long as I can remember, and just now I have been open and honest about what I've been dealing with. It's exhausting…
TE: As a man you're taught not to talk about that stuff. You're taught to deal with it and work through it. I wasn't educated on why I felt like that. And as the type of person who over thinks, it's not a good combo. I suffer from addiction. I have a disease. Trying to deal with that on my own and trying to find a solution on my own just made it worse. I never talked to anyone about it cause I was a private person and didn't want anyone else to know. It was really self-sabotage at it's finest.
Once I finally talked to someone I started to understand why I feel the way I do and why I act the way I do it resulted in me finding a way to get better. Unfortunately, it took me 25 years to figure that out.
GMs: What was the deciding factor that made you realize you're on a dangerous path and you needed to make a change?
TE: I'm very close with my sister, and had a good relationship with my mother and father. By the end of my run I had pushed everyone away and was physically deteriorating. The want to be the best and the want to be good at something was gone. I was broke and didn't have a job. It became too much. I had to surrender and humble myself.
GMs: You're not the first person/athlete to struggle with addiction. What kind of advice do you have for others in a similar situation?
TE: Talk to someone. The guys at the Nationals (Washington), they were very open and willing to help me. I had a pitching coach who really tried to take me under his wing and really wanted me to do well. I still never opened up to them and let them know what was really going on. I was so afraid. At that point fear really ran my life.
Being able to talk to someone about the issues they're having is not a sign of weakness, it's actually a strength. Opening up and being vulnerable can really make a difference. Instead of waiting on stuff to get so bad that it takes you out of the game, talking to someone in the early stages and really trying to work through it can make all the difference in someone's career.
GMs: You are now working at American Addiction Centres. What are you hoping to accomplish when working there?
TE: When I walked into treatment, there were people who really cared about me. Taking the easy way out was usually how it went with me, but they pointed me in the right direction and started this journey I've been on for the past five years.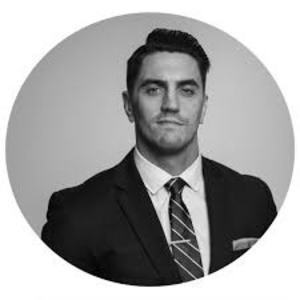 In working here I have the ability to be there for somebody and hopefully start them on the same journey that I went on. The past five years have been the best five years of my life and that's because of my sobriety.
To be able to give somebody the ability to go get help really doesn't compare to anything else.
GMs: Hindsight is 20/20. Is there something you would've done differently or did this all happen for a reason?
TE: 100 percent. When I was 18 years old and into my early 20's, I thought baseball was going to be my career. I didn't think of anything else. I put everything into baseball. Now I feel very lucky that I have the ability to help other people. I'm just as passionate about that as I was about the game. I learned so much through this ordeal. I thank God that I got through it. Cause if I didn't, I wouldn't have been able to experience the things I've experienced and I wouldn't be able to pass along those lessons.