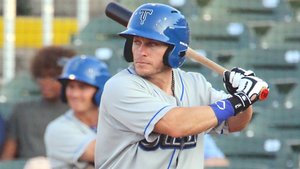 Blake Gailen is living the dream, a dream every kid has when growing up. He's been playing professional baseball for over 11 years and has been successful at every level he's been at.
But it's not as easy as everyone thinks. Does anyone really understand the ups and downs of a minor league player?
Here at The GM's Perspective, his career has been profiled countless times and each time it's another step in the right direction; to play Major League Baseball. We were fortunate enough to speak with Gailen and his dedication and never say die attitude proves that his chance to play in the bigs is closer than any of us may think.
The GM's Perspective: Blake, thank you for your time. I've actually been writing about your career for approximately five years now. The first time coming when you signed with the Colorado Rockies.
First and foremost, you recently signed a deal with the Los Angeles Dodgers, how's your time been with them up to this point?
Blake Gailen: It has been great so far. The Dodgers are a first class organization who make the players feel like they come first.
GMs: I played Indy ball for a short time and heard all the comparables of divisions, leagues and levels. In your point of view, what's the talent like in Double-A compared to the talent you've played against in the American Association and Atlantic League?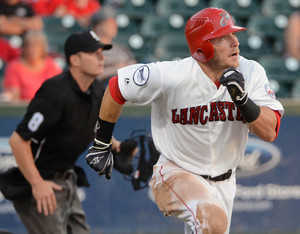 BG:  I can't speak on the American Association because the league and players have probably changed so much since my last time there (2011). But as for the Atlantic League, the level of play is different in a few ways and very similar in many ways. The differences are mostly age related. A lot more raw talent in Double A, where the Atlantic League is 60-70% former Major Leaguers. I always say the Atlantic League is anywhere from AA-AAAA on any given night.
GMs: One question I've always wanted to ask…How have you been able to keep going after all these years (11 in total). There's a lot of ups and definitely a lot of downs…
BG: I've been asked that a lot, but I started from the bottom. All I know is that I want to play in the Big Leagues and I believe I have the mind and skill set to do that. I'm not saying I'm Mike Trout or Bryce Harper, but I know what I bring to the table.
I just feel like if I keep playing and put up consistent numbers, that anything is possible. One thing is for certain; if I stop playing, I won't get there. I don't ride the highs and lows. I keep it even keel.
GMs: If I'm not mistaken, you signed five professional contracts out of Indy ball! That's gotta be some kind of record and outstanding in my opinion. Thoughts?
BG: Well, I appreciate that. But I just try to make as much of my opportunities as I can. It's not about how many teams I can sign with, it's about showing the MLB team I'm with that I can produce at the Big League level. Just want that chance.
GMs: What's the biggest obstacle you've had to overcome; Physical, mental or just bad luck?
BG: The biggest obstacle is probably the stuff I can't control. I can only do what I can do to prepare and put a good product out on the field. Getting signed or resigned and getting called up is not something I can control. So worrying about it will only slow me down.
If I were on the outside looking in, I'd say that my biggest obstacle is the lack of full minor league seasons. I just want to prove that I can put up good numbers in one MiLB season. If I fail, that's fine. I'll swallow that pill. But I have confidence in myself that I won't.
GMs: You've done this for a long time. What's your most memorable moment; signing that first contract, playing for Team Israel in the World Baseball Classic or perhaps named team MVP by the fans, earning the Atlantic League MVP award, and Baseball America's Independent Player of the Year all in the same year.
BG: So many great ones along the way. But playing in the WBC against Japan has to be the most memorable. 43,000 screaming fans in a 0-0 tie in the 6th of an elimination game for us. Just electric.
GMs: What kind of advice can you give to the other minor leaguer's out there grinding everyday?
BG: Don't take the game for granted. It will pass you by faster than you think and enjoy your time while having a good attitude the entire way. It does become a grind, but it could be a lot worse.
Never burn a bridge. Lots of networks to be made out there in the baseball world and you never know who will be a GM one day.