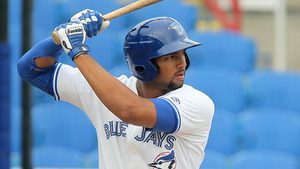 Long-time Toronto Blue Jays prospect Michael Crouse has signed with the independent Lancaster Barnstormers.
Crouse, who has been off the radar this past year due to injury, is looking to springboard back in to the eyes scouts in 2016. Even though he may not be on an affiliated roster come opening day, at 23 years old, it's only a matter of time before he catches the eyes of scouts. With a resume that includes a bronze medal at the 2011 Baseball World Cup and a gold medal at the 2011 Pan American Games, he brings a winning attitude to a team familiar with winning.
In seven minor league seasons, Crouse is a career .243 hitter with 24 triples and 57 home runs. Speed is something you can't teach and with a stolen base success rate of 75 percent (129/173), this can only benefit him in the end. Crouse does sport an extremely high K% of 27.6, but Barnstormers manager Butch Hobson looks at this as a great opportunity for a very talented player who has all the tools to be a very successful.
"Mike is very talented and was a prospect in the Blue Jays organization," Hobson said in a statement. "He is big and strong, plus he runs really well. He's going to be a valuable outfielder for us."
Not a household name, but the Barnstormers have had their share of players use their time with them as springboard back to the affiliated game (Scott Patterson, Matt Watson, Jerome Williams). With everything being even, Crouse is in a perfect spot to showcase his skills to all those who may be interested. The two-time Atlantic League champions are lucky have such a talented player in their midst, though it might only be a matter of time before he's gone.