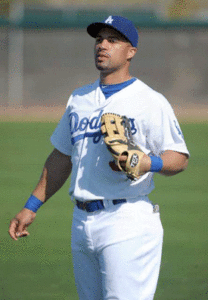 You may be unfamiliar with the name Xavier Paul, but the amount of pro experience he brings the independent Southern Maryland Blue Crabs is very impressive.
Paul, who last appeared in the bigs in 2014 with the Arizona Diamondbacks, is set to make an immediate impact as the club begins to put together their 2018 roster.
The Crabs, who also signed Frank Martinez, an Indy vet with a solid mix of MiLB experience, bring a maturity level that will without a doubt benefit the guys in the locker room.
"Both of these guys bring a lot of experience to our locker room for this season," said Manager James Frisbie. "Paul has played at the highest level with some of the best players in the world, and Martinez brings a consistent bat to our lineup with the ability to switch-hit and create matchup problems for opposing pitchers."
What the Crabs have added to their lineup is a guy who has been highly touted by scouts throughout his entire career. He was ranked as the Los Angeles Dodgers number seven prospect in their system after being drafted by them in the 2003 MLB June Amateur Draft and was also rated as having the best outfield arm in the entire system for six consecutive seasons.
In 349 games career MLB games Paul has a career .250 batting average including 12 home runs and 71 RBI, not really indicative of what he can do at the plate.After 12 minor league years, his average is nearly 40 points higher (.288) including a career .302 clip in season Triple A seasons. Nearing 100 lifetime home runs to go alongside 500 RBI, it's no wonder the Blue Crabs are thrilled to have him on their team.