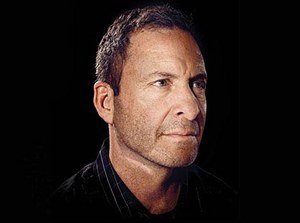 Clint Malarchuk was a goalie in the NHL for over 10 years. At the height of his career he was one of the best. However, behind all the accolades, a man was dealing with a silent struggle that very few knew about.
During his time with the Buffalo Sabres, he experienced one of the most horrific injuries in the game and came back after only 10 days. The injury was one that would've kept almost anyone from playing again, but the NHL's cowboy wouldn't let a physical injury hold him back. Mentally he was battling demons that would nearly take his life.
The GM's Perspective: You were very open and honest in your book, The Crazy Game. But there are many people that still struggle with this taboo subject of mental illness. What do you want people to take away from your very personal story?
Clint Malarchuk: I think I've always tried to play the tough guy card being a cowboy and a hockey player, but I realize now that it doesn't matter how tough you are physically or mentally. Look at the military and PTSD, for example. They are very tough, very resilient men and women, but as I said it doesn't matter how tough you are. You can have a mental illness and the toughest men and women are struggling. They aren't weak people.
GMs: You said that the OCD (something I've had my own struggles with) really took over your life after the accident. Can you let the readers know what OCD is for someone who has never experienced it?
CM: Obsessive Compulsive Disorder. There are so many different variations of it. Some of us don't really have a serious compulsion, but you just can't turn off those thoughts. For me, it was constant reassurance. Whatever that thought might be; my parents separating, my mother was going to die… you start to do things to prevent those thoughts from popping in your head like counting to 10 every 10 minutes in a certain fashion. If I do that than she won't die. And if I don't do it right, I have to start the process all over again.
Contamination is another one. I'm still kind of a germ freak, but OCD has been good to me in a lot of ways. My work ethic to get to the NHL was incredible. Even when I was 10 or 12 years old I was working out. I was obsessed with being the best that I could be. I wanted to outwork the other person. It became a bit of an obsession about always working my hardest and not taking short cuts. But I was very young doing that. That was just me. Some people hit a bump in the road and have to go back and check that everything is alright. Deep down we know the truth, we just can't rationalize it or complete that thought.
For a lot of people medication helps and some go through exposure therapy. It depends on how severe. I've gone through a lot to get to the NHL. I give my work ethic credit and my OCD credit, but I didn't know the trauma that I went through in Buffalo could really (lets say you had some disposition to mental illness like OCD) throw you over the top and it takes over your life completely. I didn't know it at the time. For me I wanted to come back quickly and get back on the horse. Looking back on it now, it probably wasn't the best thing I could've done. I knew I would come back quick, but not like that. I should have looked in to getting counselling, but it was never brought up and I never thought of it either. When you play hockey you're supposed to be tough and things like that aren't supposed to affect you. Of course that's all stigma BS now.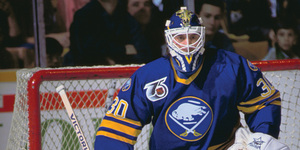 GMs: You talk about being this man's man; a hockey player, a guy who can get through anything. Do you think the sports industry, in general, has done enough to help those who still might be hesitant to come forward?
CM: Some teams now, I know the Los Angeles Kings have a guy (a former player), whose there for the guys who are dealing with some personal problems. Teams are starting to do that, but most of the time it's a sports psychologist whose there to help you mentally visualize before a game, not get rattled, and flourish under pressure. To really answer that question I would have to mention one thing that occurred to me after my book came out and what was told to me by others. I had so many current athletes who read the book, email me and say, "thank you, thank you because I thought I was the only one."
When you are under stress like athletes are, the OCD is way worse. After a game it was like a relief cause I had a reprieve from the OCD. It would build back up to the next game and the pressure would start to mount. I became more obsessive in my thinking. So that tells me that if this many players are calling me to thank me for sharing my inner most thoughts and demons, that there's still players out their struggling in silence.
GM's: In hearing you say all this, it really brings a lot of things out in the open for me. As we talked about before the call, I played professional baseball for a little bit. The anxiety ramps up before the game and you start the rituals to calm yourself down. Once the game is done, it sort of eases off for a couple days. But, in the next four days it will ramp up all over and the cycle continues.
Outside of a handful of people, no one really knew about the anxiety/depression/OCD I was dealing with. It becomes normal. You learn how to hide it and deal with it until it finally just blows up in your face and you ask for help.
CM: I say we're the best actors, bar none. We just had an NHL alumnus event in Toronto and I met up with my former teammate form the Sabres, Rick Vaive. After reading my book, he told me that he never would've know that I struggled or was different aside from the fact I spent five or six hours in the weight room after practice. They say athletes are very superstitious, but what really is that? That's a form of OCD. If they don't do that ritual, they're going to have a bad game. It's the pressure and the stress. And it's why a lot of athletes are superstitious.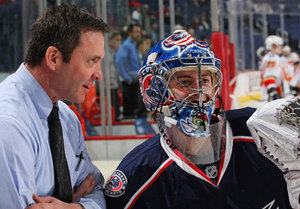 GMs: You are doing a lot of speaking events now telling your story. Has there been anything that's surprised you during this time?
CM: Nothing surprising except one time before my book even came out. I spoke at a high school and you'll end up getting 10 or 12 that come up to you after. You can tell that they relate somehow. I'll never forget one girl who pulled me aside. She rolled up her sleeve and her forearm was covered in cuts. I asked her if she'd ever told anybody or shown anyone before? She said I was the first person she's shown. I asked if she was willing to show this to a school counsellor? In the end, we were able to get her some help.
GMs: That's why I love doing these interviews. In my previous conversations with athletes who've been going through battles with addiction, the one underlying comment we always make is that if this interview helps just one person it's all worth it.
CM: I get emotional when I speak and I never know when the waterworks are going to turn on. I get emotional because I care and I might be talking to somebody that might be on the edge.
Even if it's only one person, it's all worth it. Devon, you'd be surprised by how many people you've touched, seriously. I knew the book would help people or maybe understand people like me or give people like me a little hope. It really blows me away. I was really talked into writing the book and if I was going to do it, I'd do it all the way. I bared my soul and I'm glad I did.
You keep this in mind when you're doing what you're doing. It touches people.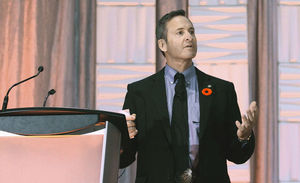 GMs: Watching your CBC interview was very emotional for me. If someone was struggling what do you want them know?
CM: I've been to the deepest. I attempted suicide. I was dark and I was desperate. I didn't want to die and I didn't want to live the way I was. The pain is so hard to describe. I've been to that very painful place. I still have bouts, but not as deep and dark. I want people to know there is help and there's a good happy productive life that's not filled with despair and darkness.
And if people did want to reach out, you can visit my website. My email is canuckranch@yahoo.com