At the head of the most exclusive underground poker scene was former Olympic hopeful, Molly Bloom. Her rise and fall has been profiled in the Hollywood blockbuster, Molly's Game directed by Aaron Sorkin.
The film based on her book, details her role in orchestrating poker games attended by some of the most powerful people in film, in the boardroom and on the field. The glitz and the glamour is the stuff of legend, but it's the person away from the poker table who can have a lasting impact on the world.
The GM's Perspective spoke with Bloom about the flop, the flush, and how her experiences with the elite transformed her into one of the most sought-after entrepreneurs on the planet.
The GM's Perspective: Ms. Bloom, thank you for taking the time to speak with me today. I read your book and saw the movie and it reminded me of 21 and Boiler Room, films so outlandish in events that you can't even fathom that in real life. But this one is.
Does anything surprise you anymore?
Molly Bloom: Oh sure! Life continues to surprise me, but I process it differently now compared to the past. I think anybody, regardless of the world they live in, get shocked. Shocking things happen, its life.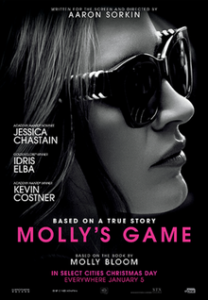 GMs: Your exploits in the poker world are obviously highly documented, but to be so successful in sports and in business your drive to succeed has to be off the charts…What is/was your motivation?
MB: There's a progression. I didn't come in to this world fearless and tenacious. My father is a psychologist who wouldn't let fear stop us. Particularly with me, he was hell bent on requiring us and teaching us to walk through fear. I don't know if I would've become someone who taps into their ability to push through those tough situations without him. He played a huge part.
In terms of tenacity, that started when the doctors told me at 12 years old that I was done skiing. In my mind I was thinking there's no way I'm done, absolutely not. Bypassing what the experts told me was possible and doing it my own way was a massive teaching lesson for me. That was the moment when I knew you didn't have to listen to the adults or the experts all the time. You could do it your way. That taught me about life and business and everything else. My biggest motivation in the first part of my life to succeed was because I didn't know who I was and I didn't feel significant. I stumbled in to that poker game and I saw an opportunity to build this really cool underground high-stakes position for myself. I started to feel the effects of how people look at you.
I didn't really try to complete myself on the inside if you know what I mean. I think that's why I chased it so far down the line even when it was so clear to me I wasn't experiencing intelligent growth anymore. It was unsustainable/dangerous and I was addicted to the lifestyle. It was 100 percent of my identity.  Forward to present day. I've had time to reflect on these abnormal moments like having back surgery, getting arrested by the Feds, losing everything…and that has enabled me to tap in to this reserve of courage that essentially allows you to let go of any fear and just move forward.
Over the last year I've really been trying to hone my courage, tenacity, and that drive. It's been a game changer for me. I've found ways to achieve the same results ie. Aaron Sorkin to write the movie without the cost of affecting yourself.  What that looks like now for me is writing another book. This memoir picks up after getting sentenced. This was the disaster my life was and how I put it back together. I'm never going to have an idea for another Google or Amazon, but I get in to the world and see ways to do things better or bigger.
GMs: The words inspiration and leader are commonly associated with you in interviews and profiles. 
What does that mean to you?
MB: I don't tend to read comments. The great ones make you feel good, but the bad ones, well…but that makes me feel awesome hearing that from you. It's also a little shocking. What I really appreciated about the film Aaron wrote was that he let the character of Molly have her flaws. I think we have this perception that we need to be this untouched and flawless person in the world in order to be able to teach, lead and/or matter.
Everyone makes mistakes. Hearing the words you said is so encouraging because that's not reality. It's a massive compliment.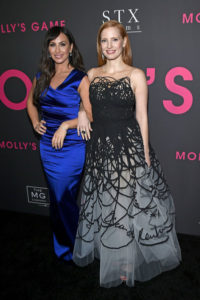 GM's: Like I said, after reading the book, watching the movie, and seeing everything that you accomplished is a feat amongst feats. Everyone makes mistakes, but you did it on your way. You were a future Olympian until fate intervened and part of this iconic scene filled with people we only see on the big screen. Your dedication and mindset to accomplish the unattainable is really unbelievable when you think about it.
MB: I believe that refusing to quit and refusing to fail will trump talent and brilliance in the end. I'm telling you right now, I didn't come into this world as an athletic prodigy or brilliant. My grades didn't come easily. There's this misperception that you have to be born a genius, but I've seen it time and time again. It's that ability to fall down and keep going.
GMs: Your website Full Bloom looks ready to launch. Can you talk about what it is and what we can expect?
MB: I see massive value in building a community around shared experiences and I see building a community for women in which they support each other and lift each other up. Right now I'm just trying to figure out what that looks like.
GMs: In a recent interview on The Denver, you said you're all for ambition and success, but your outlook is bigger picture and more comprehensive. Otherwise, no amount of success will ever make you feel good.
Can you elaborate?
MB: I always thought that when I got into those rooms with people who are so wealthy and so powerful that that was the answer. If I could just get there I'm not going to feel like this inside anymore. I'm not going to feel lonely or unfulfilled. It wasn't the case when I got there.
This time around, there's way more to the equation. Since I knew I was wrong I decided to hit the pause button and do some real work on getting complete inside. What that means was being of service to the world. Making sure you're helping other people. Also, meditation was a huge transformational practice that I believe saved my life.
You must face and own who you are while fostering this fearless moral inventory. Look at the things you've done and ask for forgiveness. After clearing out that wreckage from the past, you can move forward in a way to keep your finger on the pulse. After I did that I was able to walk red carpet at the Oscars, enjoy the success, and deliver keynote's when I've never done that before. I was able to walk through the world in such a different way to where you don't live or die by your performance or your success.
You become a person that you like not just a person you hope other people like.
GMs: Any regrets?
MB: Of course I do. I regret any harm I did to anybody. People that played in my game lost everything at times. I have regrets if I hurt people and I had to make peace with that.
In terms of my own life and the mistakes I made and the struggles I had, I'm grateful for them. It taught me more than success and opportunity ever did. I do have a faith in the universe and that this is our path and this is what we're supposed to experience.
**Photo Source: (Mike Coppola/Getty Images North America)**