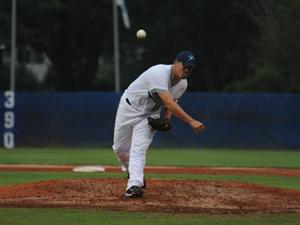 With the Washington Nationals publicity machine on overdrive, baseball in D.C., could be at an all-time high.
Bryce Harper, as you all know by now is christened as the next, next, next big thing.
Stephen Strasburg and his fourteen strikeout debut against the Pittsburgh Pirates lived up to everything it was meant to be and more!
Obviously two number one picks will get the glory, we all know that, but what about the guys getting drafted in the 20th, 30th, and 40th rounds.
Myself, being from Canada, and going to school in Nebraska from 1997-2001, I thought baseball in Canada had reached its pinnacle during those years, yet in 2010 baseball in Canada is still growing, not yet reaching its ceiling.
There is the stigma that if you do not go to a big time Division 1 NCAA school, no one, let alone Major League Scouts would find you.
Luck for the baseball world, "bird dogs" and scout's, and anyone affiliated with MLB, NCAA, NAIA, or Independent baseball will locate skill when necessary.
In 2010, technology is at its peak, (for now).  We have up to the second updates, news is at our fingertips, and Twitter and facebook, can, and is used by nearly everyone located on planet earth.
What does all this mean?
A Pensacola Pelican, a member of the Indy American Association, with 4.1 innings under his belt was taken by the Los Angeles Angles, with pick number 624.
To quote one of the all-time baseball movies starring baseball enthusiast / indy team owner, Kevin Costner, "If you build it, they will come".
In this instance, "If you pitch, they will come", and find you!
Kevin Johnson,  has just completed his senior season with NCAA Division II University of West Florida, and Kevin Johnson is a good pitcher!  How good?
In his four years of high school, he compiled a 34-2 record with a career ERA of 0.77 and a single season record of 0.34!!
All-Conference selections during his freshman and sophomore seasons at Alabama Southern Community College signified a time for better competition.  Follow that up with a 13-6 record, nearly 200 innings pitched, a 4.15 ERA, and compiling 148 strikeouts with West Florida.
Obviously every player hopes to get drafted, in actuality its a numbers game.
Have you caught a scouts attention? Are your numbers so mind-blowing, that you can't help but get drafted?
So many imperatives play a factor in this process that when you hear your name called it is relief, it is excitement, it is years and years of work that have payed off, leaving you where you started; with another challenge!
For Kevin Johnson, is MLB glory in his future, we may not know for five or 10 years.
However scouts projections are not always right.
A 62nd round pick  might turn out to be the most prolific hitting catcher in our or any generation; Mike Piazza.  Or maybe, you can be a Craig Breslow, a 26th round pick that has now appeared in 180 games and pieced together a career ERA under 2.80.
According to Johnson, he will continue to impress with what got him the attention of the Angels and probably many others.
"It's going to be a different atmosphere because it's going to be out in Arizona," Johnson said. "I've never been to Arizona before, so I'll have to adjust to it. It's going to be a fun experience. As long as I throw strikes and let the defense work, I think I can move up in the organization."
Devon Teeple is an author for the Business of Sports Network, which includes the Biz of Baseball, the Biz of  Football, the Biz of Basketball and the Biz of Hockey.   He is a former professional baseball player with the River City Rascals & Gateway Grizzlies. Devon is also available for hire or freelance opportunities.
Devon is a former student within Sports Management Worldwide's Baseball General Manager Class. Devon is the founder of The GM's Perspective and is a intern with The Football Outsiders and contributor with the Plymouth River Eels.
Currently, Devon is a Branch Manager at a financial institution in Southern Ontario Canada.  He can be reached at devon@thegmsperspective.com , thegmsperspective@yahoo.com or devon@businessofsportsnetwork.com
Follow The GM's Perspective on