The 2014 Frontier League Pitcher of the Year is back in affiliated baseball after signing a minor league contract with the Atlanta Braves, according to a recent press release on the Miners website this past Thursday.
Drafted by the Baltimore Orioles in the 7th round of the 2010 MLB June Amateur Draft from Pepperdine University, Matt Bywater has seen his fair share of pro ball.
Five seasons in to his career and 89 starts deep, Bywater's numbers are very impressive. In just over 400 innings, he sports a 2.94 ERA and has struck out 401 hitters. His career WHIP stands at 1.181.
Speaking of 2015, his third in independent baseball, Bywater leveraged himself back into the eyes of MLB scouts everywhere. In 2013 he pitched for the Lincoln Saltdogs going 2-3 with a 4.46 ERA in 40 innings. The following season was his coming out party when he dominated the Frontier League. His record stood at 8-4 with a 2.37 ERA (third in the league) and struckout 114, also good for third in the league and only the third time a Miner's pitcher has ever recorded more than 100 strikeouts in a season.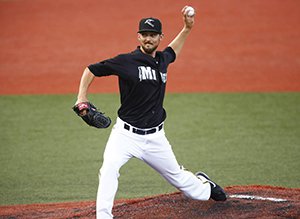 This season was no different. It may actually be better. Bywater has an identical 8-4 won/loss record and a near identical ERA at 2.37. His 123 strikeouts came in only 107 innings and he even dropped his eye-popping WHIP to from 1.129 to 1.047. These past two seasons have been dominant.  On top of that, when Bywater took the mound on June 12, he tossed the first nine-inning no-hitter in Miners history.
The Braves are getting a player who has worked hard for this opportunity.
"Matt has been the premier pitcher in this league for the last two seasons, so this was long deserved," Miners manager Mike Pinto said. "He has worked long and hard for this opportunity and we are thrilled for him that this chance came up. The Braves have had a lot of success with Miners filling needed spots in their organization the last couple of years. His numbers speak for themselves with their dominance. I know I speak for the coaching staff and all our players in wishing Matt the best as he finishes up his season with the Braves organization."
At 26 years old, the career of this ex-Oriole turned Brave has only just begun.