Dylan Kelly signs with D-Backs
Undrafted out of the University of Missouri Columbia, Dylan Kelly leveraged a blistering start to his 2015 season (second with the Normal CornBelters) to earn a minor league contract with the Arizona Diamondbacks. In 11 games for the CornBelters, Kelly is batting .350. Of his 14 hits, five are for extra bases. 2014, Kelly's senior season, he put up stellar numbers. In 51 games he hit .330, drove in 27 and hit three home runs.
Luis Alen becomes all-time Goldeyes hits leader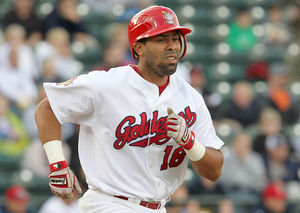 Luis Alen has been playing baseball for a long long time, 13 professional seasons to be exact. On June 2, the Winnipeg Goldeyes honored Alen after he collected his 632nd hit with the franchise, now a new team record, breaking Max Poulin's previous best. When you look at this from a distance 632 independent league hits will never make any highlight reel and ESPN will never lead off a show with it, but as an athlete at any level, one must realize how significant this is in the overall grand scheme of things. Yes, Alen never made a major league roster, but he did everything he could to get there. Alen made it to Triple A with the New York Mets, has over 2,700 professional at-bats while still accomplishing something that not many other players have. Alen is a .293 lifetime hitter (.312 in Indy ball) and hasn't hit lower than .289 since 2009. There's no telling what the future holds. Kudos to Luis Alen, you're in the records books. No one can ever take that away from you.