There's no time like the present to say that Johnny Damon is a Hall of Famer.
The 2018 Hall of Fame ballot is stacked! Trevor Hoffman and Vladimir Guerrero are almost guaranteed to see 75 percent come this time next year. While first time candidates like Chipper Jones and Jim Thome appear to be shoo-ins. There are others on the ballot like multiple World Series champion, Johnny Damon whose greatness will produce a heated debate amongst those holding the key to baseball immortality.
Damon isn't a sexy vote. He's never been and MVP, heck he's never been in the top 10. Damon was only voted to two All-Star teams (2002, 2005), only had three 20 home run seasons (2004, 2006, 2009), never driven in 100, and never won a Gold Glove. Yet, at the end of his 18 year career, his overall body of work is very very impressive. Eyebrow-raising when you really start to dig a little deeper.
According to an article by NESN, his numbers are historically superior. He finished with over 500 doubles, more than 100 triples, more than 200 home runs, and more than 2,500 hits (2,769). The only other players to do so are George Brett, Lou Gehrig, Goose Goslin, Rogers Hornsby, Willie Mays, Paul Molitor, Stan Musial, Babe Ruth, Al Simmons and Robin Yount. All are in the Hall of Fame.
If you want more proof, only four players have eclipsed his career totals for hits, runs, home runs and stolen bases: Barry Bonds, Rickey Henderson, Paul Molitor and Craig Biggio. All, except Bonds are in the Hall.
Statistically, Damon wasn't flashy, but consistency shouldn't be taken as a deficiency. Here's some more information for arguments sake:
Runs scored – 1,668 – 32nd all-time
At bats – 9,736 – 36th all-time
Doubles – 522 – 48th all-time
Hits – 2,769 – 54th all-time
Stolen bases – 408 – 67th all-time
We also shouldn't forget BBWAA Rule #5: Voting shall be based upon the player's record, playing ability, integrity, sportsmanship, character, and contributions to the team(s) on which the player played.
Damon has been nothing but professional during his MLB career. He's never been associated with PED's of any kind and made it known that he played the game clean during a 2014 interview with the Hardball Times.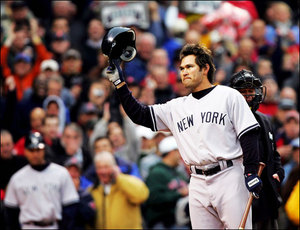 I played it clean," Damon told Orlando sports radio hosts David Baumann and Big Joe, hosts of the show Baumann and Big Joe. "I think I'm one of the only players to come out and say, 'I guarantee you there is nothing I've done that enhanced my baseball career.' You can't fault someone who has a chance to make $20 million, $50 million, $100 million for going against the system to get to where they are. You can't fault them, but I'm as clean as they came, and I got booted out of the game because I'm clean."
He'll always have his critics. Is the biggest knock against him his play in the field? Was Damon a superior outfielder? No more, no less than any of his peers. Has he produced enough statistical proof of his worthiness? You're damn right.
All in all, Damon was one of the most consistent players in the history of the game, a two-time World Series Champion who was productive year in and year out. You can't fault him for that and it shouldn't be held against him.