I went back to an article I wrote on former Atlanta Braves closer Kerry Ligtenberg in 2010. It's always fun to reflect on past stories of players who were never supposed to succeed but ended up becoming one of those moments in time that you can't forget.
In 1998, the Braves were still in the middle of their incredible run, but in the midst of all their success, the bullpen was a part of the team that was makeshift and a wide array of players who were cast off from their previous teams would play pivotal roles in the Braves inevitable run to the division crown.
For us diehard Braves fans, many remember Ligtenberg as having the best sideburns this side of Ryan Klesko; however, his discovery is tremendous, a part of baseball folklore.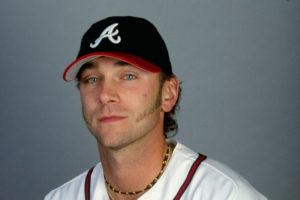 As a member of the Minneapolis Loons, Ligtenberg was managed by former Braves catcher Greg Olson. Olson was so impressed by Ligtenberg's numbers; 11-2, 2.73 ERA in 108.2 innings, that he recommended to his former club to sign this young magician.
The Braves listend and signed Ligtenberg; in return, the Loons received 12 dozen baseballs and two cases of bats.
It's not as if he appeared out of nowhere.  Ligtenberg paid his dues. He made the most of his time in the minors and even added 10 mph on to his fastball since his first year in independent baseball. His 1997 season split between Double- and Triple-A was most definitely worthy of a call-up; 3-4, an ERA under 3.00 (2.98), and a WHIP of .0945 with 78 strikeouts in 60 innings.
1997 was in fact an audition and he played the part appearing in 15 games while finishing nine and racking up a save.  Even in limited duty, Ligtenberg could still chalk up the Ks, recording 19, and limited batters to only four walks.
When Braves long time closer, Mark Wohlers went on the DL amidst a ongoing battle with his command, Ligtenberg was bumped to the closer's role and rode that wave of success all the way into the playoffs.
With a makeshift bullpen that the Braves seemed to have every single season, Ligtenberg seemed to solidify a staff anchored by three future Hall of Famers having ridiculously good years.
Greg Maddux, Tom Glavine, and John Smoltz combined to go 55-18.  Their other two starters Kevin Millwood and Denny Neagle went 33-19. And just as the New York Yankees had perfected, you didn't need to go a full nine. Just get to the 7th and let the pen do the rest.
With a bullpen of up and comers like John Rocker and Mike Cather coming into their own, and a veteran presence ranging from Rudy Seanez and Dennis Martinez, the ninth belonged to "sideburns"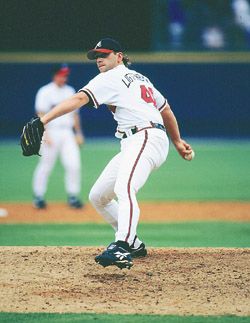 Compiling 30 saves that ranked seventh in the league, Ligtenberg appeared in 75 games (sixth), struck out 79 in 73 innings, held opponents to a .193 batting average, and pulled in a WHIP of 1.03. He ranked fourth in Rookie of the Year voting.
Not bad for a guy getting $175K.
Ligtenberg missed all of 1999 with a torn ligament in his elbow. He returned to the Braves in 2000 and split closer duties with Mike Remlinger and John Rocker. Collectively, they recorded 48 saves.
He spent the next two seasons with the Braves posting ERAs of 3.02 and 2.97. He was granted free agency after 2002 and spent the last three years of his career with the Baltimore Orioles, Toronto Blue Jays, and Arizona Diamondbacks.
Though he never again reached the heights of that rookie campaign, he put together eight solid years in the bigs as a reliable closer, middle relief and set up guy. Overall, he appeared in over 380 games, nearly 400 innings, struck out 357 batters, and was a key cog in the Braves machine of the late 90's and early 2000's.
He last appeared in a professional game in 2009 for the independent St. Paul Saints racking up 15 saves. Little did he know that their paths would cross again.
After taking the position as head coach for his former high school squad in 2011 & 2012, Ligtenberg took over the pitching coach duties for the Saints and is now entering his seventh season with them.