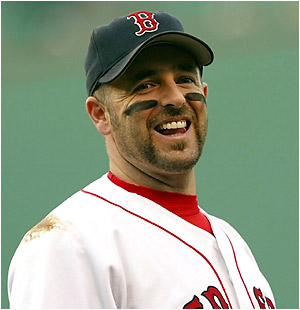 After 12 years in the MLB with eight seasons in the minors and independent ball, Kevin Millar has returned to where it all started; The St. Paul Saints of the American Association.
As one's career winds down, there is always hope for one last return to glory, one last hurrah, just one more time to lace up the spikes and trot onto the field.
Despite a World Series ring, being that "idiot" in the middle of countless clutch situations for the Boston Red Sox in their return to glory,  one's career does come to an end, whether they like it or not.
Oh, and do not forget "cowboy up", besides Millar, I recall only one other person busting out a phrase like that, Stephen Baldwin in 8 Seconds (and yes, that is a good movie).
This may not be the end for Millar, on the other hand an opportunity that he can grab by the horns.
In all seriousness, he does have a chance to hone his skills for a few months, while preparing for a late season call-up with a shot to return to the playoffs with a contender, or a team on the cusp.
If this is the end, what better way to say goodbye than with the team that helped turned a dream into reality.
Millar's possible farewell tour begins with the Saints opener, May 13 against the Wichita Wingnuts.
For more information on the Saints, visit their website here.
Devon Teeple is an author for the Business of Sports Network, which includes the Biz of Baseball, the Biz of  Football, the Biz of Basketball and the Biz of Hockey.   He is a former professional baseball player with the River City Rascals & Gateway Grizzlies. Devon is also available for hire or freelance opportunities.
Devon is a former student within Sports Management Worldwide's Baseball General Manager Class. Devon is the founder of The GM's Perspective and is a intern with The Football Outsiders and contributor with the Plymouth River Eels.
Currently, Devon is a Branch Manager at a financial institution in Southern Ontario Canada.  He can be reached at devon@thegmsperspective.com , thegmsperspective@yahoo.com or devon@businessofsportsnetwork.com
Follow The GM's Perspective on