I haven't met Kieran Powell in person, but we have spoken countless times over the years; formally in interviews and back and forth on social media. Through multiple conversations about his tryouts in Major League Baseball and his entrepreneurial activities, his affinity for putting others above himself stands out every time we connect.
The GM's Perspective: Good afternoon sir! Been a couple years since we spoke last and things have most certainly changed. What's keeping you busy these days?
Kieran Powell: It's been interesting. Unfortunately, I wasn't able to get back to the United Kingdom to be with my wife before the borders closed. I've been working very hard on my cardiovascular fitness for next year's cricket season. No one knows what that's going to look like. With Covid and expectations of a second wave, I'm trying my best to keep motivated.
GMs: Everyone has been handling this unique situation differently. And when it comes to mental health, some people may be alone at home or their support system is not where it once was. How are you sticking to a structured plan and how do you stay focused when everything is so up in the air?
KP: I'm mostly doing what's best for me, but it's quite difficult in a sense that I've got far more free time when you don't have actual sporting practice. I've been catching up on sleep and working on two new business ventures with my wife, so I always try to focus on the silver lining in situations such as these!
GMs: Recently you announced the publication and release of a children's book that you and your wife Emma created; Kingdom of Kairo, available via Waterstones, Barnes & Noble, Amazon Worldwide and all reputable bookstores.
Can you tell us more about that?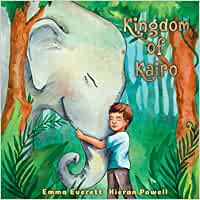 KP: My wife, Emma, she is pretty much the driving force behind everything we're doing! She's such a passionate, kind-hearted person. She steers away from the media side of things, but I try to get more people to know about that side of her. She had this idea, an idea that's been in the works for over a year. It took a bit of time to get the finalities complete and all the pictures done (being the first time we've done something like this).
Being passionate about kids and being passionate about animals, we wanted to create something magical and tell kids a story that they could grow up with. Hopefully one day soon we'll be able to have kids of our own and we can pass down this book that their mom and dad created.
About the story, Kairo is in love with animals. In a nutshell it's about how to deal with people in different situations and told through the prism of an animal and a child. It's all about love, understanding, and acceptance.
GMs: It seems that you've really embraced your passion for projects outside of your professional cricket career. What has gotten you so motivated?
KP: I think it's important, especially in today's landscape, that athletes do more than just being an athlete. An entrepreneur does several different projects and no one ever looks at it as something out of the norm. But when an athlete does something outside of his given profession it's deemed as they've done something super special. It's about diversifying your portfolio.
My wife, being my agent, is big on that. Fortunately, I get to be her guinea pig with all the different projects that we undertake, which is great. She has such a passion towards helping people, educating people, and women empowerment. So, this is just us putting things in place so that future generations can take advantage of our work and our visions.
GMs: You've been at the top of the professional cricket world for some time and also had tryouts for multiple Major League Baseball teams. You're always smiling!. Other athletes may not be able to handle the pressure of sports 24/7…would that be a correct statement?
KP: Off field activities, and having my wife by my side, is a major calming influence. Everything that we do off the field takes away from the attention or stress or pressures of being a professional athlete. Especially looking back on my younger years; you get consumed with the sport and think it's the be-all and end-all. It took me a while to find that level playing field where good or bad, it all needs to be approached with a sense of balance and context.
GMs: What advice or words of encouragement do you have for other athletes who are looking to be creative in their down time?
KP: It's all about finding the right people to surround yourself with. You must have that good foundation at home and the right professionals around you that can pick up the slack when you're busy focusing on your sport where you have the assurance that these are persons that have your best interests at heart and want to augment your values through your brand, your projects and your profile. When you have that you can begin to have a positive impact.