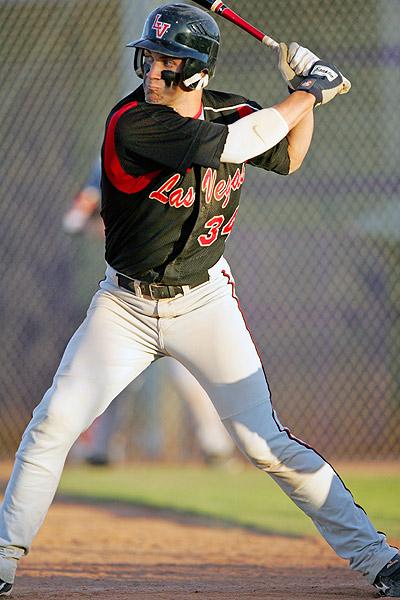 You may already know the name, but for those that do not, in the months leading up to the 2010 MLB draft, you will hear it many times; Bryce Harper.
The master plan for the Washington Nationals is finally falling into place.
Play possum for two years and set yourself up to draft, possibly, the two most highly regarded picks in the history of the game; Stephen Strasburg, and Bryce Harper.
We all know about Strasburg, 13-1 at San Diego State, 1.32 ERA in 15 starts, 195 strikeouts in 109 innings of work.  We are also familiar with his meteoric rise through the minor league ranks in '10; 5-1 in seven starts, 40 strikeouts in 34 total innings of work, and while with the Nats triple-A affiliate Syracuse Chiefs, he is holding opponents to a .027 batting average.
According to Curt Schilling, Strasburg has the mentality to be successful,
"I go back to the mentality," Schilling said. "He's got a good head on his shoulders. He's gonna deal with adversity for the first time in his life at the big-league level. It's not gonna be in the minor leagues. That's gonna come back to his upbringing and what kind of kid he is. And again, everything I've heard, he's good, he's great, he's got a good head on his shoulders.
"He won't have extended bad periods of time, again, because he commands the baseball so well. He'll be able to go out in the big leagues on nights where his other two or three pitches are not working, and win with just a fastball."
On to Harper.
In a 2009 Sorts Illustrated article, SI stated that the Nats acquiring Strasburg and Harper is like the equivalent of getting LeBron James and Dwight Howard.
Of course when dealing with "superstars" of this magnitude, you will be dealing with uber agent Scott Boras.
The Nats, as I see this, having dealt with Boras and his dealings in the Strasburg negotiations, should not have a problem when and if Harper is selected as the number one pick.
Harper, is according to scouts, more talented than Ken Griffey Jr. and Alex Rodriguez at the same age, and while putting this into perspective, his numbers at the College of Southern Nevada speak for themselves;
23 home runs, 68 RBI, a .417 batting average, .917 slugging percentage, .509 OBP, and 16 stolen bases in 19 attempts.
Whether or not Harper is selected as the number pick, the hype machine is will more or less be operating at full speed when the draft starts June 7.
Isn't that what makes baseball a great game?
You have a player, widely regarded as the "second best" prospect ever, almost a lock to be the number one pick on his way to a Hall of Fame career.
However, how many times have we seen or heard this before?
Mark Prior, in his junior season at USC put together numbers matching Strasburg's, 15-1. 1.70 ERA in 18 starts, 202 strikeouts in 138 innings.  Released by the San Diego Padres in 2009, has not seen MLB action since 2006
Kerry Wood, 14-0 in high school, 0.77 ERA in and 152 strikeouts in just over 81 innings.  Plagued by injuries over his career, went from can't miss starter, now closer for the Indians and has not had an ERA below 3.20 since 2003
Brien Taylor, 213 strikeouts, despite throwing just 88 innings during his senior high school season.  A $1.55 million dollar signing bonus led to seven minor league seasons, a 22-30 record, never advancing past double-A
Matt White, 0.65 ERA in high school, USA Today High School  Player of the Year,$10 million dollar signing bonus equals seven minor league seasons and a career ERA hovering around 4.60
Only time will tell if Harper can live up to the lofty expectations set upon him by scouts and other professionals, but also those established by Harper himself.
You ask, why are scouts in such awe over an un-established player?
Perhaps it was his home run derby display at the Third Annual Power Showcase held at Tropicana Field in January of 2009, where he hit a blast estimated at 502 feet, and a barrage of six consecutive shots that traveled an average of 469 feet.
Or is it because he tops outs at 96 mph on the radar gun?
Best ever or potential bust, only time will tell, but it will be one heck of a journey!
Devon Teeple is an author for the Business of Sports Network, which includes the Biz of Baseball, the Biz of  Football, the Biz of Basketball and the Biz of Hockey.   He is a former professional baseball player with the River City Rascals & Gateway Grizzlies. Devon is also available for hire or freelance opportunities.
Devon is a former student within Sports Management Worldwide's Baseball General Manager Class. Devon is the founder of The GM's Perspective and is a intern with The Football Outsiders and contributor with the Plymouth River Eels.
Currently, Devon is a Branch Manager at a financial institution in Southern Ontario Canada.  He can be reached at devon@thegmsperspective.com , thegmsperspective@yahoo.com or devon@businessofsportsnetwork.com
Follow The GM's Perspective on