The Miami Marlins have signed 2015 Frontier League MVP Taylor Ard after an astonishing breakout season. Ard, who was originally drafted by the Seattle Mariners in the 7th round of the 2012 MLB June Amateur Draft from Washington State, had the season every minor league hopeful dreams of.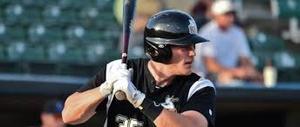 2014 saw Ard make his independent league debut appearing in 50 games from the River City Rascals. He was named an All-Star starter for the West Division after batting .338 with nine home runs and driving in 33. He was promptly signed by the Arizona Diamondbacks during the All-Star weekend. The Diamondbacks released him at the end of the 2014 season despite batting over .300 in three different minor league levels. Once again with the Rascals at the beginning of 2015, the newest Marlin had a season to remember, and one that brought him back into the eyes of scouts everywhere. Ard dominated Frontier League pitching for the entire season leading the league in home runs (30), RBI (83), doubles (29) and came in second with a Ruthian OPS of 1.031.
There is no doubt that at 25 years old Ard is in his prime years. Getting ample playing time will continue to his improvement and come the beginning of 2016, will get another chance to prove he can repeat what he did with the Rascals. 30 big flies and second consecutive All-Star appearance is no fluke. He's a professional who just made and entire organization take notice.