As with any Independent league player, you must put up some impressive numbers to get noticed and that's what he's done year after year.
It was over three years ago that Zane Chavez have realized his dream of signing a professional contract with a MLB affiliate. This time, the Pittsburgh Pirates have given him a second chance.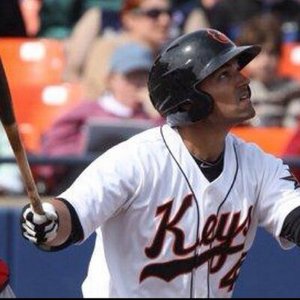 In his first Indy go around, Chavez signed with the Baltimore Orioles organization after batting .339 for the Grand Prairie AirHogs and El Paso Diablos of the American Association. In two years split between rookie ball, High-A, and Double-A, the former Royals draft pick hit a combined .282 with 13 home runs and 67 RBI including a .362 OBP. 2013 saw him as the starting catcher in the 2013 Carolina League All-Star Game, but after an unfortunate 14 games in Bowie the following season (.167) he received his release, setting this whole thing in motion.
When Chavez returned to the AA, it was if he didn't miss a beat. His third stint with the AirHogs was pretty darn good if you ask me. He didn't hit for the same average (.288) but his ability to drive in runs was as consistent as it's always been.
2016 was much of the same except for the fact he hit more home runs this year than he ever did in any of his six Indy years (6). Considering he only suited up for 70 games with 30 less plate appearances than the previous campaign, his 17 doubles were good enough to lead the team. He also placed fifth in RBI (38), and sixth in home runs.
It's rare when Indy players make it all the way to an MLB field, but it's almost unheard of when someone goes for two stints in unaffiliated ball and gets picked up for a second time. I've said it once and I'll say it again; Independent baseball delivers quality players. They just need an opportunity. Players at that level are playing for the love of the game and has nothing to do with the dollar. Chavez is a prime example of someone who will continue to buck the odds until he can't play anymore.
If that doesn't motivate you, I don't know what will.