Leadership is a quality that some people have. Some people don't. Many people claim they are good leaders, but that's very questionable. Numerous questions abound when one tries to figure out who or what makes a leader? Is a leader born? Can they be made?
In our everyday lives leaders can be anyone. A coach, teacher, manager, employer, etc…your options are endless. When you find someone who has those qualities it's always a good idea to learn from them and watch how they treat others. Fortunately for me I've had the ability to work with a highly motivated athlete; Myles "Fury" Jury, the #8 ranked lightweight fighter in the UFC.
Jury was on top of the world when he faced Donald "Cowboy' Cerrone at the UFC's big New Year's PPV event. The outcome, a unanimous decision victory for Cerrone, was not what Jury wanted, but he owned up to it, which is something not many people would do.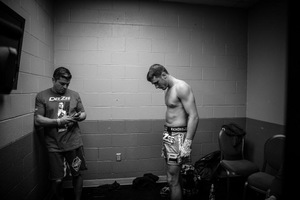 "Learning from mistakes and failures is what truly makes us who we are and brings out the best in us. I've begun the process to bringing out the best…..
Step #1 – Acknowledging what all I did wrong, what I should have done and taking 100% responsibility.
This isn't fun and is quite humbling. At the same time, I needed something to light a fire under my ass to stop worrying about being perfect. I'm ready to bite down and get after it like never before! You have to take BIG RISKS TO GET BIG REWARDS and that's exactly what I will do…."
Since January, Myles has been improving in all aspects of his craft and letting people know how he's doing it. The first and most unexpected way is by giving people first hand knowledge of his life, thoughts, and training on his website. On a regular basis the site will produce entries from Jury himself, or coaches, trainers, and motivators. These original takes on life and how to reach your goals are fascinating reads from different perspectives. From what to eat, how to train, and who has helped along the way, it's a blueprint for anyone wanting to learn, grow and become a better person or athlete.
A true sign of a leader is to take a negative event in his or her life and turn it into a positive. Jury, a veteran of 16 professional mixed martial arts fights sports a 15-1 record, seven coming by way of knockout and five by submission. He didn't waste anytime getting back in the saddle after his first loss. Jury was scheduled to fight former Lightweight champion, Anthony "Showtime" Pettis at UFC Fight Night in Chicago on July 25. Pettis is not just any fighter. He's one of the best in the world. He was the lightweight champion until losing his belt to Rafael dos Anjos. Among his many highlight reel fights (Benson Henderson), he was the first UFC fighter to be featured on a Wheaties box. Pettis is one of the top 10 fighters in the world and Jury was facing him next. How many others would take on such a task right away? Jury would. Jury was scheduled to take on the elite until Pettis went down with an injury. Taking his place was Edson Barboza, a formidable foe willing to step in. Come July 25, Jury's fight is no longer after he recently had to withdraw to an injury.
Myles Jury is more than just a fighter. He's a leader, a motivator, and a role model. Being fortunate enough to work with Jury over the past year, he's as advertised: A self-motivated and extremely hardworking individual who never settles for second best. He's surrounded himself with a dynamic team, one with a winning mindset.
Those who are familiar with my writing and background know that baseball shaped me in to the person I am today. The game taught me many things, predominantly teamwork and leadership. Jury, who grew up in a tough environment, began training in MMA as a way to learn hand-to-hand combat. It was a cool idea at the time. As Jury got older, he realized that MMA was a passion. It gave him confidence and the belief that he could be the best in the world at one time. With confidence comes the ability to work well with others and prepares you for anything. Whether its baseball or MMA the mentality is the same.
A loss and an injury could be the be-all end-all for some, but not Jury. This will be another chapter in the story of a young fighter on the verge of breaking through. The possibilities are endless. He's faced adversity before when he tore his ACL on the Ultimate Fighter 13 and returned after a year of rehab to earn a spot in the house on TUF 15. He also understands that it's not just about winning, its staying the course and keeping your eye on the prize.
"Leadership is a very important aspect in life. With it you are able to blaze a path towards success. With out leadership you will never see the long term vision thus never staying the course towards success."