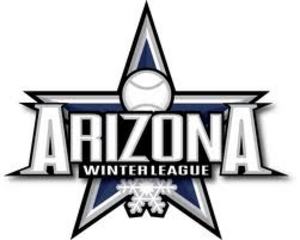 Undying love for the game. The never-ending passion to do what you love…
The Arizona Winter League is a short-season independent winter professional baseball league consisting of four teams (Team Canada, Yuma Tejanos, Edmonton Capitals, Laredo Apaches). In a little over one month, each team will play 14-18 games.
The entire purpose of the AWL is to get players to the next level. Since 1997, scouts from Atlantic League, American Association, Frontier League, Can-Am League, Liga de Mexico, and MLB have been signed to professional contracts. So far, World Series champion, Sergio Romo and ex-Toronto Blue Jay, Scott Richmond are the only two to make it to the big leagues.
In short, odds on achieving ultimate success with the Independent route is extremely tough, but that doesn't mean it's not worth it. Very few see the success of Romo and Richmond, but to have a chance to be seen is what the AWL is all about. Their site has a great comment section from 
current and former
 players detailing their experiences that you can see 
here
. I've listed a few below;
Two years ago, I would have never dreamed of all of the amazing opportunities that have come to me because of my decision to attend the Arizona Winter League. At first, I was very skeptical because of the cost. However, I can tell you that you are taking absolutely no risk in attending the AWL. This is THE BEST place to go for your career. I have attended other leagues that were also a fun experience, but if you really want to take your career to the next level, you will get the opportunity at the AWL. You will be seen by great managers, greatly improve, gain a ton of lifelong friends, and likely be called upon to play professional baseball during the 2015 season. If you are unsure of where your talent fits in, the AWL will give you a great gauge of where you are and how to reach the next level. Jose Melendez has been like a member of my family in his generosity, kindness, honesty, and doing whatever it takes to get me a chance to play. I have been given the opportunity to pitch for a championship club during the playoff stretch and in the playoffs with the Edinburg Roadrunners in 2013, continued to learn from a great manager, Ozzie Canseco, during 2014 with the Brownsville Charros, and now I am playing and coaching in Melbourne, Australia with many currently affiliated players including a Major League shortstop playing defense behind me. All of this is only because of my decision to attend the Arizona Winter League. GO FOR IT!
The Arizona Summer League really helped me get to where I am today with my professional baseball career. I didn't have much luck with the draft coming out of college and after 2 weeks of playing in the ASL I signed a contract with the Rio Grande Valley Whitewings and helped them win a United Baseball League Championship. The coaches and Jose really did their best to get my name exposed to coaches around the league which I greatly appreciate. I met some great friends that I to this day still stay in touch with and had so many great memories. For any players that are unsure about doing this I will tell you that it is worth it! If you have the ability, the work ethic and the desire then the ASL/AWL is worth it! I recently just signed a contract to play in the American Association to play with the Winnipeg Goldeyes and if I didn't come to the ASL then I wouldn't be where I am today.  Chase your dream!
Chase your dreams, never give up, and never let anyone tell you you can't do something. The opportunities are out there if you want to dig deep and prove the naysayers wrong.