Kyle Drabek was drafted by the Philadelphia Phillies in the first round of the (18th) 2006 MLB Draft. Three years later, as a top 25 prospect, he was one of three players traded for future Hall of Famer Roy Halladay.
13 years later and the future superstar is in Independent baseball trying to regain what once made him "can't miss".
Last year Drabek was attempting a comeback with the Sugar Land Skeeters and needless to say, was not what anyone expected; 1-3, 8.33 ERA, 27 innings, 35 hits, 1.815 WHIP. Come 2018, he signed with the Pericos de Puebla of the Mexican Baseball League where he was expected to be in the starting rotation. Drabe appeared in two games giving up 11 earned runs.
In mid-July, the Southern Maryland Blue Crabs signed Drabek as another piece to their bullpen for the second half of the season. And so far he's been as advertised. He's appeared in three games, pitched in six innings and gave up just one run.
The jury is still out, but someone with Drabek's talent and gene pool it makes you wonder why he hasn't been able to put all the pieces together.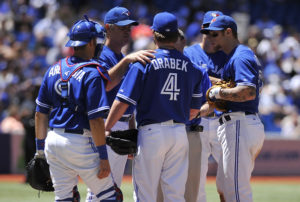 Chris Mazza, the seven year vet who spent the majority of his career within the Twins and Marlins organizations, joined the Blue Crabs at the same time as Drabek. Mazza recently inked a deal with the Seattle Mariners. He used his time in Indy ball as a jumping off point as many others do.
Both are at different points of their career and have had different levels of success, but their Indy experience is what sets them apart from all those treading water. Despite the accolades and all the applause over the years, those willing to do what others won't is what keeps them ahead of the curve.