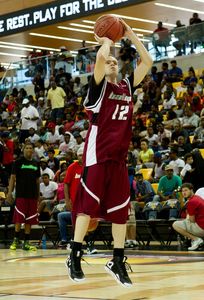 You many not know the name Grayson Boucher, but when you hear "The Professor" you know exactly what and who I'm talking about.
When it comes to Streetball, there is really nothing these guys can't do with a basketball. They have the talent and ability of an NBA player and the charisma and ball handling skills of a magician. It's not just about scoring points, but scoring in way that makes the everyone in attendance hold their collective breath..
After his freshman year at Chemeketa CC, he went for a dream. And that dream was realized when he earned a contract with And1.
Boucher's professional career started with other Streetball legends like Skip to My Lou, Main Event, Hot Sauce, Spyda, 50, and AO on the AND1 Mixed Tape Tour. At 5'10 and 150 pounds, he's not the polarizing figure as others were on the court, but what he can do with a basketball is frightening and can literally make people who guard him fall down.
Since his meteoric rise, and after nearly 15 years as a professional, he's still promoting the game he loves all over the world.
The GM's Perspective: It's quite obvious that you've taken a different path than most basketball players. You've proven that someone small in stature doesn't mean you can't play. How did you elevate yourself to one of the best basketball players and streetballers in the world?
The Professor: That's a humbling intro, I appreciate that. The root of all that is the passion I have for the game of basketball. A lot of people ask what the formula is to play professionally or to play at the college level? It comes down to three main points in my opinion;
One, it revolves around having a passion for the game as opposed to just liking it a lot. At three years old my dad introduced me to the game and his passion wore off on me.
Two, spend a ridiculous amount of time honing your craft. It's hard work, but it was always fun because I loved it so much. Growing up, depending on the day, I probably spent two to eight hours working in my driveway or at the gym.
Three, I was blessed to have some great coaching. It started with my dad who was incredible. And it also started with a great guy who started working with me in the fifth grade. That laid the foundation for my ball handling skills. In addition to a great college coach, all these factor in to where I'm at today.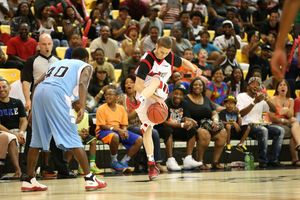 GMs: The entertainment value is massive with what you do on the court. Do people really understand the work that goes into being that superior at your craft?
TP: I don't think they do unless they're really really into the sport or have played at a high level. If you've seen the videos you can tell I've spent a lot of time working. Day in and day out, it's the only way you get better. Unless they've lived the life or played professionally or are familiar with the genre on a deeper level, they don't know.
GMs: You have a name that people recognize and it's probably very easy to get complacent. How do you stay motivated?
TP: To entertain people with the game and to glorify God with the platform he has given me. I try to give my best effort in every aspect of it; from a business standpoint and from a basketball standpoint. I try to put my best foot forward and go as hard as I can to honour God and propel what I believe is my purpose.
GMs: You travel all over the world showcasing your God given ability, but we do know there's a lot more that goes on behind the scenes than what we see on TV. What kind of preparation goes into one of your tours to make it successful?
TP: If someone reaches out and wants to set up a tour, it usually takes about a week or two to come to an agreement. And these days, if I get a bunch of bookings internationally, I'll try to set them up back-to-back-to-back in a mini tour format.
If we're talking a Ball Up tour, I'm not necessarily linked to the business, it's more of getting ready to hoop. But when it comes to my personal bookings, you have to be involved in the live event prep, content, media, marketing, editing, and following up with those relationships you just built.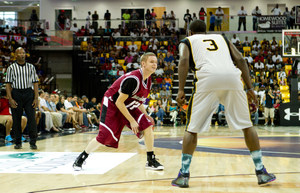 GMs: How do you want to be remembered personally and professionally and what's next for The Professor?
TP: What's next…I do all things basketball so if someone is booking me for an appearance, a camp, clinic or training, I do it. I also do some motivational speaking. I leave the door open with all those as far as what the future will bring. I imagine as I move away from playing, I'll go further into other aspects of the game. I've also done some acting on the side ie. digital programs that teach.
Going back to your first question about being remembered, I really don't give it a tonne of thought. From a legacy and character standpoint, I just hope I'd be remembered for more than what I did on the court.
If you're looking for more information about Grayson "The Professor" Boucher, please visit The Professor Live and on tour with Ball Up. If you're looking to connect on social media, you can follow him on Instagram & Twitter @globalhooper @professor12 and Facebook @professorlive.