The Baltimore Orioles haven't had the season they expected, but they continue to scour the minors for hidden talent.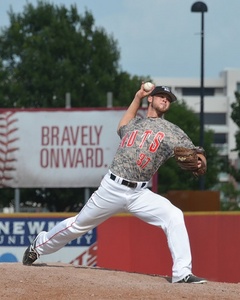 On Friday, the American Association announced that the Orioles had officially purchased the contract of St. Paul Saints RHP Mike Zouzalik. Zouzalik was named the AA Rookie of the Year after posting a 4-1 record with a team low 2.06 ERA. He surrendered only 23 hits in 48 innings, had a video game like .750 WHIP, and held opponents to a .140 batting average.
Prior to joining the Independent league ranks, Zouzalik was spotted at an open tryout held by the Texas Rangers. He spent one full season in the Texas Rangers system splitting time between Spokane and Myrtle Beach putting together impressive numbers; 4-0, 2.41 ERA. After the Rangers released him, he spent 2014 with the AA's Wichita Wingnuts. His numbers were very similarto his special season with the Saints, the only difference being a significant reduction in opposition effectiveness. The Texas-Pan American alumni cut opponents hits by 50 percent and earned runs by over 30 percent.
At 25 years of age, the reigning AA ROY is in his prime. His numbers have always been stable and there is nothing that says he cannot continue putting up these superb statistics in the Orioles organization. The only thing holding him back is the end of the baseball season. 2015 was a monumental step forward, who knows what 2016 could bring.