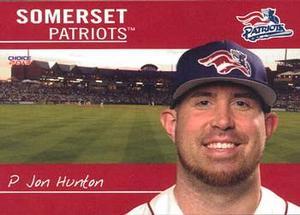 Minor League veteran Jon Hunton is your new Atlantic League saves leader.
Hunton has been doing this for a long time and it has paid off in droves. On Friday, the Atlantic League announced the long-time Patriot became the ATL's all-time saves leader with 134 tying Jim Ed Warden.
After 13 years of minor league baseball, most would have given up a long time ago. Not Hunton. He played for the Chicago Cubs and Oakland A's organizations, reaching as high as Triple-A. Despite never making a MLB roster, he continued to take the mound each and everyday, and is also a part of the Somerset Patriots front office. He's been the teams Director of Player Personnel since the 2014 season.
Drafted by the Chicago Cubs in the 11th round of the 2004 MLB June Amateur Draft from Lamar University, he's no stranger to going that extra mile. Hunton has pitched at every minor league level and appeared in nearly 700 games. His career has even taken him to the Mexican and Venezuelan Winter Leagues where he spent five seasons. As a career reliever his numbers don't tell the whole story. Even though they don't look outstanding to the average eye, (48-53, 3.38 ERA), he's been given the ball when it's counted the most finishing over 470 professional games.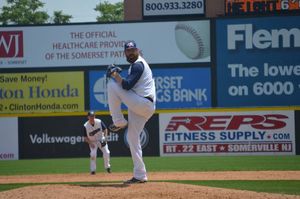 Despite bouncing around, Hunton has always had the knack to save games. 185 of his 243 career saves have come in Independent baseball. If you break the numbers down even further, you fully understand why "Big Jon" is so good at his job. Since 2012 his BB9 have decreased every year culminating in a career low in 2015 of 1.4 and his career WHIP at the Indy level is 1.179. He keeps runners off base and keeps damage to a minimum.
Outside of Indy ball, no one will pay much attention, but to baseball enthusiasts and to those who played the game, the scope of what Hunton has done goes beyond the box score. Congratulations.