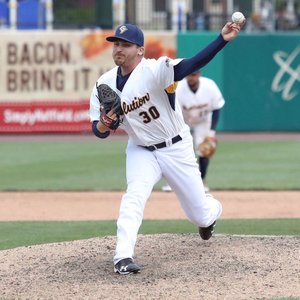 Jarret Martin was having an All-Star calibre season with the York Revolution of the Atlantic League. His season was so good that the San Francisco Giants signed him to a minor league contract. He will start his Giants career at Double-A Richmond.
Martin's been in the game for over eight years. During that time he's spent the majority of his career with the Los Angeles Dodgers. Originally drafted by the Baltimore Orioles in the 18th round of the 2009 MLB June Amateur Draft out of Bakersfield College, Martin was primarily a starter early in his early days. After being dealt to the Dodgers is when Martin was not used as a starter, but more as a relief pitcher.
Overall, the numbers aren't spectacular, but that's usually the case. Not everyone can be a Clayton Kershaw or Mariano Rivera, but that doesn't mean they aren't durable players who posses a niche skill no one else does. After six years at the MiLB level and two at the Indy level, Martin has a 20-38 record with a 4.61 ERA. Standing at 6'3″ and weighing in at 230 lbs, batters can't feel comfortable in the box when he's slinging it from the left side. With a career 9.4 SO/9 over 490 career innings, he knows how to get the punchout.
"He worked extremely hard and made significant strides since spring training to get better," said Revs manager Mark Mason. "He has all the ability, and we are very happy for him to get this well-deserved opportunity. We wish him the best."
Martin's second Independent season got off to a spectacular start and its no wonder the Giants scooped him up. In 18 games, he racked up 27 strikeouts (13.3 SO/9) and surrendered 2 earned runs (.098 ERA). Superior numbers with superior ability. And of course, this is another example showing how Indy ball is not a demotion, but an opportunity for something more.