Ricky Romero and Chris Colabello are two athletes at the opposite end of the spectrum.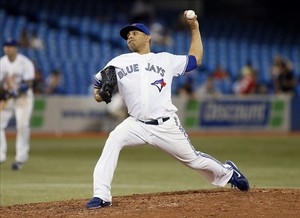 Romero, a former Ace and once a potential CY Young candidate, was given his walking papers by the Toronto Blue Jays with $7.5 million remaining on the last year of his contract. His release also ignited a $600,000 buyout of a club option for next year.
Colabello, a superb independent league and minor league player, has finally made his way back to the Major Leagues. His road ins't necessarily the best route, but he did what he had to do to make it back.
Why focus on two athletes that aren't impact players? Because Romero and Colabello are at a crossroads with endless potential.
Colabello has 11 years in the game at this point. At 31 years of age, his stint with the Blue Jays could be his best and last opportunity to make a name for himself. He's proven countless times that he's a master at his craft. A career .313 career batting average over the span over 3,300 at-bats is proof of that. Currently batting .474, that number will come back down to earth in the coming weeks. However, injuries and underperformers may keep him in the line-up longer than expected, obviously not the worst thing in the world. Journeyman ballplayers should look to guys like Colabello. Without a doubt, he's an inspiration to hundreds of players who went undrafted, yet still have the dream to compete at the next level, Colabello is quiet and carries a big stick.
Romero has been given a second chance by the San Francisco Giants. And why wouldn't they? They Jays are paying his salary. The Giants have nothing to lose and everything to gain. The former first-round pick hasn't become a terrible player overnight. It's a combination of injuries, confidence and mechanics that resulted in underwhelming numbers. Romero really does have to regroup and start from scratch, very similar to what Scott Kazmir did. Expectations will be minimal as he begins his Giants career after signing a minor league deal. Just as Colabello has flew under the radar until a spectacular International League season earned him his first call-up in 2013, Romero needs to fly under the radar for the time being, while showing the promise that once made him one of the most promising young left-handers in the game.
Colabello has been at the bottom and clawed his way up from obscurity. Romero is at the point in his career where all the doubters have been proven right. He has to prove them wrong. While bother players resumes contrast, a closer look finds more similarities than you might think.